DA Form 1222 Routing Slip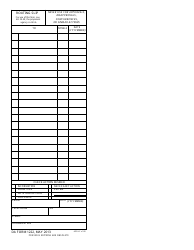 What Is DA Form 1222?
DA Form 1222, Routing Slip is a form used in routing paperwork within an office. This form is a part of a series Government-released routing slips, which also includes the Optional Form 41, Routing and Transmittal Slip, and GSA Form 14, Routing Slip. The slip can only be used for the specific actions described in the form and should not be used for approvals, disapprovals or concurrences.
The latest version of the form was issued by the Department of the Army in May 2013. An up-to-date DA Form 1222 fillable version is available for electronic filing and download below or can be found through the Army Publishing Directorate (APD) website. The form is unclassified, approved for public release and available for unlimited redistribution.
The DA 1222 is often confused with the DD Form 1222, Request for and Results of Tests, introduced in February 1962.
NEVER USE FOR APPROVALS,
ROUTING SLIP
DISAPPROVALS,
For use of this form, see
CONCURRENCES,
AR 25-50; the proponent
OR SIMILAR ACTIONS
agency is AASA.
DATE
TO
INITIALS
(YYYYMMDD)
CHECK ACTION DESIRED
INFORMATION
NECESSARY ACTION
SIGNATURE
SEE ME
NOTE AND RETURN
CIRCULATE
FROM
DATE (YYYYMMDD)
TELEPHONE
FAX
E-MAIL
ORGANIZATION
DA FORM 1222, MAY 2013
APD LC v1.00
PREVIOUS EDITIONS ARE OBSOLETE
How to Fill Out DA Form 1222?
An overview of the form and filing guidelines can be found in the Army Regulation 25–50, Preparing and Managing Correspondence, released in May 2013. DA Form 1222 instructions are as follows:
Each entry on the list has to be assigned with a number and must contain the name and the initials of the receiver along with the date and the desired action. The sender has to provide their name, the date of completing the form, their phone number, address, e-mail, and their organization.
All necessary remarks can be entered on the reverse of the slip and do not have to be filed as record material.
The DA 1222 Form can only be used for managing correspondence within the U.S. Army. 
The related Optional Form 41 is also used when forwarding papers from one office to another and may be used when trading correspondence between any of the agencies of the Federal Government. T he OF 41 can contain up to five addresses. Each entry has to contain the name, office symbol, room number, building number and agency of the receiver along with the desired action. All remarks should be listed in the biggest block of the form. The sender's information goes in the line at the bottom of the form with their room number and building. The first addressee will forward the form further and draw a line through their name and/or placing their initials and the date in the provided spaces.