DA Form 7501 Personnel Claim Payment Report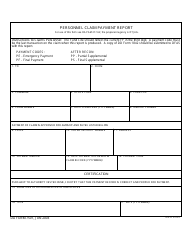 DA Form 7501 or the "Personnel Claim Payment Report" is a Department of the Army-issued form used by and within the United States Military.
The form - often incorrectly referred to as the DD form 7501 - was last revised on June 1, 2003. Download an up-to-date fillable DA Form 7501 down below in PDF-format or look it up on the Army Publishing Directorate website.
PERSONNEL CLAIM PAYMENT REPORT
For use of this form see DA PAM 27-162; the proponent agency is OTJAG.
Instructions to Claims Personnel: The Fund Cite should reflect the current FY in the third digit. A payment code must
be the last transaction on the claim when this report is produced. A copy of DD Form 1842 should be submitted to DFAS
with this report.
PAYMENT CODES:
AFTER RECON:
PE - Emergency Payment
PP - Partial Supplemental
PF - Final Payment
PS - Final Supplemental
1. TO
2. FROM
3. COMMAND
4. OFFICE CODE
5. FUND CITE
6. CLAIM NUMBER
7. DATE CLAIM FILED (YYYYMMDD)
8. AMOUNT CLAIMED
PAYMENT OF CLAIM IS APPROVED FOR AMOUNT AND PAYEE LISTED BELOW
9. PAYEE
10. SOCIAL SECURITY NUMBER
11. ADDRESS
12. PAYMENT AMOUNT
13. DATE PAYMENT RECORDED IN
14. PAYMENT CODE
CLAIM RECORD (YYYYMMDD)
CERTIFICATION
PURSUANT TO AUTHORITY VESTED IN ME, I CERTIFY THAT THIS PAYMENT RECORD IS CORRECT AND PROPER FOR PAYMENT.
15. SIGNATURE OF AUTHORIZED CERTIFYING OFFICER
16. TITLE
17. DATE (YYYYMMDD)
DA FORM 7501, JUN 2003
APD LC v1.01ES