DD Form 2656 Data for Payment of Retired Personnel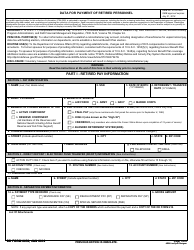 What Is DD Form 2656?
DD Form 2656, Data for Payment of Retired Personnel is used to elect an SBP and designate beneficiaries for retired pay. A fillable DD Form 2656 is available for download and digital filing below or can be accessed through the Executive Services Directorate website.
The latest edition of the form - sometimes incorrectly referred to as the DA Form 2656 - was issued by the Department of Defense in January 2018 and provides relevant information needed to establish a retainer or retired pay account and gathers information on any dependents the retiree may have.
Where Do I Submit DD Form 2656?
There is no mailing address for DD Form 2656. Once you have completed the form, your Branch of Service will send it along with all supporting documentation to DFAS Retired and Annuitant (R&A) Pay for processing.
OMB No. 0704-0569
DATA FOR PAYMENT OF RETIRED PERSONNEL
OMB approval expires:
July 31, 2018
The public reporting burden for this collection of information, 0704-0569, is estimated to average 15 minutes per response, including the time for reviewing instructions, searching existing data sources, gathering and
maintaining the data needed, and completing and reviewing the collection of information. Send comments regarding the burden estimate or burden reduction suggestions to the Department of Defense, Washington
Headquarters Services, at whs.mc-alex.esd.mbx.dd-dod-information-collections@mail.mil. Respondents should be aware that notwithstanding any other provision of law, no person shall be subject to any penalty for
failing to comply with a collection of information if it does not display a currently valid OMB control number.
AUTHORITY: 10 U.S.C. 71, Computation of Retired Pay; 10 U.S.C. 73, Annuities Based On Retired Or Retainer Pay; DoD Instruction 1332.42, Survivor Annuity
Program Administration; and DoD Financial Management Regulation, 7000.14-R, Volume 7B, Chapter 42.
PRINCIPAL PURPOSE(S): To collect information needed to establish a retired/retainer pay account, including designation of beneficiaries for unpaid retired pay,
state tax withholding election, information on dependents, and to establish a Survivor Benefit Plan election.
ROUTINE USE(S): To the Department of Veterans Affairs (DVA) regarding establishments, changes and discontinuing of DVA compensation to retirees and
annuitants. To former spouses for purposes of providing information, consistent with the requirements of 10 U.S.C. 1450(f)(3), regarding Survivor Benefit Plan
coverage. To spouses for purposes of providing information, consistent with the requirements of 10 U.S.C. 1448(a), regarding Survivor Benefit Plan coverage.
Additional routine uses are available in the applicable system of records notice T7347b, Defense Military Retiree and Annuity Pay System Records, available at:
http://dpcld.defense.gov/Privacy/SORNsIndex/DOD-wide-SORN-Article-View/Article/570196/t7347b/
DISCLOSURE: Voluntary; however, failure to provide requested information will result in delays in initiating retired/retainer pay.
WARNING
Read the instructions at the end of this form in their entirety prior to completing.
PART I - RETIRED PAY INFORMATION
SECTION I - PAY IDENTIFICATION
1. NAME
2. SSN
(Last, First, Middle Initial)
3. DATE OF BIRTH
4. RETIREMENT / TRANSFER
(YYYYMMDD)
DATE
(YYYYMMDD)
5. RANK / PAYGRADE
6. BRANCH OF SERVICE
a. AIR FORCE
b. ARMY
c. NAVY
d. MARINE CORPS
7. MEMBER OR FORMER MEMBER OF THE
8. PARTICIPANT IN THE FOLLOWING RETIREMENT PLAN (See instructions, check only one)
a. ACTIVE COMPONENT
a. FINAL PAY
(only those members who first joined the service prior to September 8, 1980)
b. RESERVE COMPONENT
b. HIGH-3 (also known as the "High 36")
(all members of the Reserves and
c. CSB/REDUX
(only members who elected the Career Status Bonus upon completion of 15 years of service)
National Guard including Active Guard/
Reserve and Full-Time Support)
d. BLENDED RETIREMENT SYSTEM (BRS)
9. CORRESPONDENCE ADDRESS (Ensure DFAS - Cleveland Center is advised whenever your correspondence address changes.)
a. STREET (Include apartment number)
b. CITY
c. STATE
d. ZIP CODE
e. TELEPHONE
f. EMAIL ADDRESS
g. PREFERRED CONTACT METHOD
(Incl. area code)
(check one)
TELEPHONE
EMAIL
SECTION II - DIRECT DEPOSIT / ELECTRONIC FUND TRANSFER (DD/EFT) INFORMATION (See Instructions)
ACTIVE DUTY ONLY: Check here if you want to continue using financial information currently on file, otherwise fill out Items 10 through 13)
10. ACCOUNT TYPE
11. ROUTING NUMBER
12. ACCOUNT NUMBER
(Check one)
(See Instructions)
(See Instructions)
CHECKING
SAVINGS
13. FINANCIAL INSTITUTION
a. NAME
b. STREET (Include apartment number)
c. CITY
d. STATE
e. ZIP CODE
SECTION III - SEPARATION PAYMENT INFORMATION
14. a. PAYMENT TYPE RECEIVED
(Check one)
b. GROSS AMOUNT
NONE
SEVERANCE PAY (SE)
READJUSTMENT PAY (RP)
SEPARATION PAY (SP)
VOLUNTARY SEPARATION INCENTIVE (VSI)
SPECIAL SEPARATION BONUS (SSB)
NOTE: If any payment type was selected, attach a COPY OF THE ORDERS which authorized the payment and a COPY OF THE DD FORM 214.
List Of Attachments
DD FORM 2656, JAN 2018
DD FORM 2656, JAN 2018
Page 1 of 9
Page 1 of 9
PREVIOUS EDITION IS OBSOLETE.
PREVIOUS EDITION IS OBSOLETE.
AEM LiveCycle Designer
AEM LiveCycle Designer
DD Form 2656 Instructions
The form is divided into five parts with each providing specific data about the retiree, their dependents and applicable benefits needed for establishing a retired or retainer pay account.
Part I gathers retired pay information and consists of Sections I through VII. Items 1 through 3 identify the applicant. Item 4 is for entering the date of retirement or transfer to Reserve.
Item 7 is used to indicate whether the applicant is or was a member of the Active or Reserve Component. Item 8 identifies the retirement plan that covers retiree. Items 5, 6 and 9 are self-explanatory.
Items 10, 11, 12 and 13 describe the bank account information of the retiree and the type of account. Item 14 is for identifying any previous separation or severance pay. Item 15 covers VA disability compensation and the monthly amount of award.
Item 16 is for designating beneficiaries for unpaid retired pay. If the retiree does not designate a beneficiary in Item 16 any unpaid retired pay will be paid to the surviving person highest on the following list:
The retiree's spouse;
Their children or descendants;
To both parents in equal parts;
To the legal representative in their estate.
Section VI of Part I consists of Items 17 through 21 and provides federal tax withholding information. Section VII - Items 22, 23 and 24 - covers voluntary state tax withholding.
Part II, Lump Sum Election is optional. Items 25 through 28 in Section VIII are only filed if the retiree is covered under the Blended Retirement System and wants to elect a partial lump sum of retired pay.
Part III is the Survivor Benefit Plan. The SBP pays an inflation-protected annuity to the eligible beneficiary in the event of the retiree's death. Items 29 through 32 provide information about the retiree's spouse and children as well as information about any disabled dependents.  The retiree indicates their desired SBP election and designates beneficiaries for SBP in event of death in Section X (Items 33 through 38).
Part IV - or Section XI - consist of Items 39 and 40. The retiree and a witness must certify that the number of withholding exemptions claimed do not exceed the number to which the retiree is entitled by signing the appropriate lines.
Who Qualifies for Section V of the DD Form 2656?
Completing Part V, Spouse SBP Concurrence is required only if the retiree declined to elect SBP coverage, elected less than the maximum coverage or elected child-only coverage while having a spouse.
Item 41 is signed by the spouse to signify concurrence with the SBP election made by the retiree. Item 42 is signed by a Notary Witness.
DD 2656 Related Forms
The paper has eight related forms, each with its distinctive features and a specific purpose.
DD Form 2656-1, SBP Election Statement for Former Spouse Coverage is a form used by spouses and former spouses of servicemen for purposes of providing information regarding SBP benefits. The election is considered invalid if not mailed to and received by the Defense Finance and Accounting Service within a year after the date of the divorce.
DD Form 2656-2 is the SBP Termination Request. The form is used to voluntarily discontinue participation in the Uniformed Services Survivor Benefit Plan
DD Form 2656-5 or the RCSBP Election Certificate is a form used by RC Members to make an election for the Reserve Component SBP during a period of 90-days after receiving notification of eligibility to claim Reserve retired pay.
DD Form 2656-6, SBP Election Change Certificate is used by retired servicemembers to make changes to their Survivor Benefit Plan election.
DD Form 2656-7, Verification for Survivor Annuity is used by a surviving spouse, a former spouse or dependent children of retirees to verify annuity eligibility under the Survivor Benefit Plan, Retired Servicemen Family Protection Plan or RC Survivor Benefit Plan.
DD Form 2656-8 or the SBP Automatic Coverage Fact Sheet is a form used for determining the marital and dependency status or retirees in order to establish and maintain an accurate accounting of the retired pay account.
DD Form 2656-10, SBP/RC SBP Request for Deemed Election is used for providing information related to SBP coverage by former spouses.
DD Form 2656-11, Statement Certifying Number of Months of SBP Premiums Paid is s form used to contest the number of months credited toward Paid-up SBP by the Defense Finance and Accounting Service.