DA Form 4569-1 Security Assistance DA Publication Requisition Code Sheet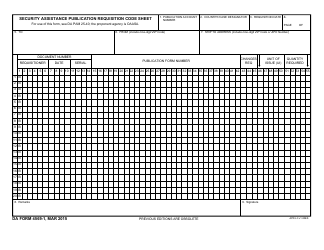 DA Form 4569-1 - also known as the "Security Assistance Da Publication Requisition Code Sheet" - is a Military form issued and used by the United States Department of the Army.
The form - often mistakenly referred to as the DD form 4569-1 - was last revised on March 1, 2015. Download an up-to-date fillable PDF version of the DA 4569-1 below or request a copy through the chain of command.
1. PUBLICATION ACCOUNT
3. REQUISITION DATE
4.
2. COUNTRY/CASE DESIGNATOR
SECURITY ASSISTANCE PUBLICATION REQUISITION CODE SHEET
NUMBER
For use of this form, see DA PAM 25-40; the proponent agency is OAASA.
PAGE
OF
5. TO
6. FROM (include nine-digit ZIP Code)
7. SHIP TO ADDRESS (include nine-digit ZIP Code or APO Number)
DOCUMENT NUMBER
CHANGES
UNIT OF
QUANTITY
PUBLICATION FORM NUMBER
REQ
ISSUE (UI)
REQUIRED
REQUISITIONER
DATE
SERIAL
▼
▼
1
2
3
4
5
6
7
8
9
10
11
12
13
14
15
16
17
18
19
20
21
22
23 24
25
26
27
28
29
30 31
32
33
34
35
36
37 38
39
40
41
42
43
44 45
46
47
48
49
50
51
52
53
54
55
1
B
2
B
3
B
4
B
5
B
6
B
7
B
8
B
9
B
10
B
11
B
12
B
13
B
14
B
15
B
16
B
17
B
18
B
19
B
20 B
8. Remarks
9. Signature
DA FORM 4569-1, MAR 2015
APD LC v1.00ES
PREVIOUS EDITIONS ARE OBSOLETE
Download DA Form 4569-1 Security Assistance DA Publication Requisition Code Sheet