DA Form 5701-17 Mi-17 Performance Planning Card (Ppc)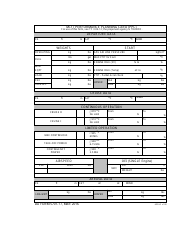 DA Form 5701-17 - also known as the "Mi-17 Performance Planning Card (ppc)" - is a Military form issued and used by the United States Department of the Army.
The form - often mistakenly referred to as the DD form 5701-17 - was last revised on March 1, 2016. Download an up-to-date fillable PDF version of the DA 5701-17 below or request a copy through the chain of command.
Mi-17 PERFORMANCE PLANNING CARD (PPC)
For use of this form, see TC 3-04.12; the proponent agency is TRADOC.
DEPARTURE DATA
o
o
PA
ft
m
FAT
C
F
WIND
WEIGHTS
START
2
OPERATING
kg
lbs
APU AIR LINE PRESSURE
kgf/cm
o
C
ltrs
gal
MAX PTIT for Start
FUEL
kg
lbs
ENGINE IDLE (N1)
% to
%
MSN
o
o
EQPT
kg
lbs
ENGINE IDLE (Temp)
C
C to
LOAD
kg
lbs
PTIT - Partial Accel check
o
C
PAX
kg
lbs
IGE
kg
lbs
HOVER
TAKEOFF
kg
lbs
OGE
kg
lbs
CRUISE DATA
o
o
WIND
PA
ft
m FAT
C
F
CONTINUOUS OPERATION
o
C
From
To
_
< 870
CRUISE II
No Limit
%
%
o
C
From
To
< 910
_
CRUISE I
No Limit
%
%
LIMITED OPERATION
o
< 955 C
From
To
MAX CONTINUOUS
60 Min
%
%
o
C
From
To
< 990
_
TAKE-OFF POWER
6-15 Min
%
%
o
C
From
To
< 990
_
CONTINGENCY
2.5 Min
%
%
POWER
AIRSPEED
OEI (SINGLE Engine)
Vne
km/h
ALT
ft
kts
MAX
WEIGHT
lbs
ARRIVAL DATA
o
o
PA
ft
m FAT
C
F
WIND
IGE
kg
lbs
kg
lbs
LDG GWT
HOVER
OGE
kg
lbs
DA FORM 5701-17, MAR 2016
APD LC v1.00