DA Form 7766 Army Disaster Personnel Accountability and Assessment System, Event Request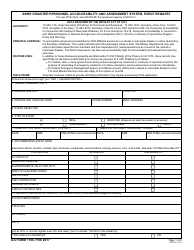 DA Form 7766 - also known as the "Army Disaster Personnel Accountability Assessment System, Event Request" - is a United States Military form issued by the Department of the Army.
The form - often mistakenly referred to as the DD form 7766 - was last revised on February 1, 2017. Download an up-to-date fillable PDF version of the DA 7766 down below or look it up on the Army Publishing Directorate website.
ARMY DISASTER PERSONNEL ACCOUNTABILITY AND ASSESSMENT SYSTEM, EVENT REQUEST
For use of this form, see AR 600-86; the proponent agency is DCS G-1.
DATA REQUIRED BY THE PRIVACY ACT OF 1974
10 USC 136, Under Secretary of Defense for Personnel and Readiness; 10 USC 3013, Secretary of the Army; 10 USC
AUTHORITY:
5013, Secretary of the Navy; 10 USC 8013, Secretary of the Air Force; DoD Instruction 3001.02, Personnel Accountability
in Conjunction with Natural or Manmade Disasters; Air Force Instruction 10-218, Personnel Accountability in conjunction
with Natural Disasters or National Emergencies; Army Regulation 500-3, US Army Continuity of Operations Program
Policy and Planning.
To accomplish personnel accountability for DoD affiliated personnel in a natural or manmade disaster or when directed by
PRINCIPAL PURPOSE:
the Secretary of Defense. This system will document the individuals check-in data. The Military Departments may also
collect information about Service members and their dependents for needs assessment as a result of the natural or
manmade disaster. The DoD Components may also use accountability data for accountability and assessment reporting
exercises.
In addition to those disclosures generally permitted under 5 USC 552a(b) of the Privacy Act of 1974, these records may
ROUTINE USES:
specifically be disclosed outside DoD as a routine use pursuant to 5 USC 552a(b)(3) as follows:
To Federal, state, or local governments during actual emergencies, exercises or continuity of operations tests for the
purpose of responding to emergency situations or to allow emergency service personnel to locate the individual(s).
To Federal Emergency Management Agency to facilitate recovery efforts when natural or manmade disasters occur.
The DoD Blanket Routine Uses also apply to this system of records.
DISCLOSURE:
Voluntary; however, failure to provide identifying information may impede processing of this application.
Forward all requests through your TIER 1 HQs/MACOM POCs
1. MAJOR COMMAND (Tier 1)
2. REQUESTING UNIT
3. UNIT UIC
4. REQUESTING UAM/COR NAME
PHONE NUMBER
EMAIL ADDRESS
5. EVENT OBJECTIVE
6. TYPE OF EVENT
(a)
REAL
EXERCISE (Requests at least two weeks in advance)
(b)
ASSESSMENT
ACCOUNTING
BOTH
7. WHEN DO YOU WANT THIS EVENT TO START?
8. WHEN DO YOU WANT THIS EVENT TO END?
DATE
TIME
TIME ZONE (est/cst/mst/pst/zt)
DATE
TIME
TIME ZONE (est/cst/mst/pst/zt)
9. RECOMMENDED EVENT NAME
Descriptive Name: location, disaster type (hurricane, earthquake, terrorist attack, training exercise, etc.), and a date. Example: CO Wild Fires May 2011
POPULATION
SPONSORS
DEPENDENTS
ACTIVE DUTY
SELECTED RESERVE
GUARD/RESERVE ON ACTIVE DUTY
ARMY CIVILIAN EMPLOYEES
NAF CIVILIAN
DOD CONTRACTOR
FOREIGN NATIONALS
CONUS CONTRACTORS
10. REQUEST GEOGRAPHIC AREA OF COVERAGE (GAOC) (Use additional pages as needed)
STATES/TERRITORIES
COUNTIES
ZIP CODES
UIC'S
List all UICs or provide highest level UIC and select "yes" to include** all UICs in the Hierarchy.
**INCLUDE UIC HIERARCHY
YES
NO
Page 1 of 2
DA FORM 7766, FEB 2017
APD LC v1.01
Download DA Form 7766 Army Disaster Personnel Accountability and Assessment System, Event Request