DLSE Form 277 Application for Permission to Work in the Entertainment Industry - California (English / Tagalog)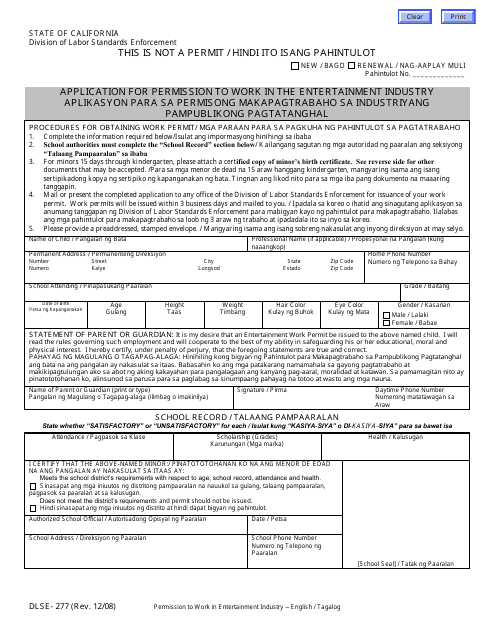 Fill PDF Online
Fill out online for free
without registration or credit card
What Is DLSE Form 277?
This is a legal form that was released by the California Department of Industrial Relations - Division of Labor Standards Enforcement - a government authority operating within California. As of today, no separate filing guidelines for the form are provided by the issuing department.
FAQ
Q: What is Form 277?
A: Form 277 is the Application for Permission to Work in the Entertainment Industry in California.
Q: Who needs to fill out Form 277?
A: Anyone who wants to work in the entertainment industry in California needs to fill out Form 277.
Q: Is the form available in multiple languages?
A: Yes, the form is available in English and Tagalog.
Download DLSE Form 277 Application for Permission to Work in the Entertainment Industry - California (English / Tagalog)