DA Form 3355 Promotion Point Worksheet (United States Army Reserve)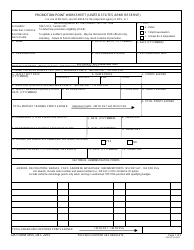 What Is DA Form 3355?
DA Form 3355 is the Promotion Point Worksheet (United States Army Reserve) issued by and used within the Department of the Army (DA). The purpose of the form is to determine service member's eligibility for promotion.
The latest edition of the form - sometimes mistakenly referred to as the DD Form 3355 - was issued in December 2015 is still in use and valid today. An up-to-date fillable version of the DA Form 3355 is available for download and digital filing below or can be obtained through the army publishing directorate website.
The DA 3355 is used to update a soldier's promotion points and the information contained within the form may be disclosed to DA officials only. The disclosure and filing processes are voluntary. However, failure to provide information may serve as the grounds for denial of promotion.
PROMOTION POINT WORKSHEET (UNITED STATES ARMY RESERVE)
For use of this form, see AR 600-8-19; the proponent agency is DCS, G-1.
DATA REQUIRED BY THE PRIVACY ACT OF 1974
1. TYPE
Title 5 USC, Section 301.
AUTHORITY:
a. Initial
To determine promotion eligibility (USAR).
PRINCIPAL PURPOSE:
b. Total Reevaluation
ROUTINE USES:
To update a Soldier's promotion points. May be disclosed to DOD officials only.
c. Annual Re-Computation
DISCLOSURE:
Voluntary. Failure to furnish information may result in denial of promotion.
2. NAME
3. DATE OF BIRTH (YYYYMMDD)
4. DATE (YYYYMMDD)
5. ORGANIZATION
7. RECOMMENDED MOS
6. RECOMMENDED GRADE
SECTION A - RECOMMENDATION
MILITARY TRAINING (Maximum Points: 340 FOR SGT and 255 FOR SSG)
1. ARMY PHYSICAL FITNESS TEST (APFT) MAXIMUM POINTS: 180 FOR SGT - 145 FOR SSG
a. LATEST APFT DATE
b. RAW SCORES
c. POINTS EARNED
(YYYYMMDD)
PUSH-UPS
SIT-UPS
RUN
TOTAL
2. WEAPONS QUALIFICATION MAXIMUM POINTS: 160 FOR SGT - 110 FOR SSG
a. LATEST WEAPONS QUALIFICATION
b. DA FORM USED:
d. POINTS EARNED
c. TOTAL HITS
DATE (YYYYMMDD)
3. TOTAL POINTS EARNED
Maximum Points: 340 for SGT and 255 for SSG
►
TOTAL MILITARY TRAINING POINTS EARNED
4. COMMANDER (TYPED SIGNATURE BLOCK)
6. SIGNATURE
5. DATE (YYYYMMDD)
7. RECOMMENDED SOLDIER'S SIGNATURE BLOCK
8. DATE (YYYYMMDD)
9. SIGNATURE
10. PROMOTION BOARD RECOMMENDATION (Select Yes or No)
YES
NO
11. BOARD PRESIDENT (TYPED SIGNATURE BLOCK)
12. DATE (YYYYMMDD)
13. SIGNATURE
SECTION B - ADMINISTRATIVE POINTS
AWARDS, DECORATIONS, BADGES, COA'S, AIRBORNE ADVANTAGE: MAXIMUM POINTS 125 FOR SGT - 165 FOR SSG
List awards, include order number and award number (i.e. 3rd OLC) COA's limited to 20 points.
Include Airborne Advantage points only when serving in authorized TOE/TDA position with qualifying badges.
125 for SGT - 165 for SSG
►
TOTAL AWARDS/DECORATIONS POINTS EARNED
Page 1 of 2
PREVIOUS EDITIONS ARE OBSOLETE.
DA FORM 3355, DEC 2015
APD LC v1.00ES
Download DA Form 3355 Promotion Point Worksheet (United States Army Reserve)
How to Complete DA Form 3355?
The DA 3355 has four parts: Section A, Section B, Section C and Section D (the very first section contains administrative information and is untitled).
The administrative data required by the form includes the name and date of birth of the service member, date of application, organization, recommended grade (promotion grade) and recommended MOS (Military Occupational Specialty) - that should be either soldier's PMOS or career progression MOS. Instructions for completing the DA Form 3355 are as follows:
Section A is the recommendation section that evaluates the level of a soldier's military training.

Boxes 1a through 1c are for providing APFT (Army Physical Fitness Test) scores. Enter the latest date of assessment, raw scores and points earned.
Box 1a through 1d are for weapons qualification. Enter the latest qualification date, DA Form used, total hits and points earned.
Box 3 is self-explanatory: enter the total of military training points earned.
Boxes 4 through 6 and 11 through 13 are authentication boxes for the commander and board president respectively. These boxes require their names, signatures, and the dates of signing.
Boxes 7, 8 and 9 are for the recommended soldier's name, signature, and date of filing
Box 10 contains YES and NO Boxes that signify whether or not there was a recommendation by the Promotion Board.

Section B, Administrative points is for listing awards with order numbers and award number, Airborne Advantage Points (for soldiers serving in authorized TOE/TDA position with qualifying badges), all military education and civilian education, certifications or DLPT.
Section C is for the total computation of points. It combines all previously listed scores in military training, awards and decorations, and education and provides their total amount.
Section D is for authentication. The soldier must certify that the above total points shown have been accurately extracted from appropriate records and promotion list points indicated are correct.
Soldiers flagged IAW AR 600-8-2 or barred at the date when fully eligible for automatic promotion, require a DA Form 4187, Personnel Action and the submission of a SIDPERS grade change (GRCH) transaction to be promoted.