This version of the form is not currently in use and is provided for reference only. Download this version of IRS Form 8944 for the current year.
IRS Form 8944 Preparer E-File Hardship Waiver Request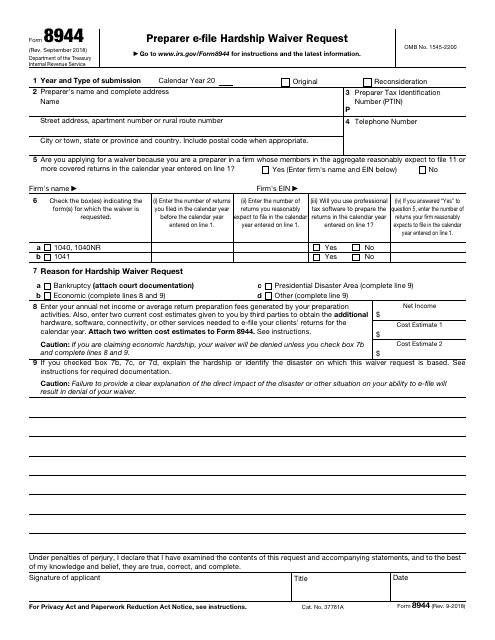 What Is IRS Form 8944?
IRS Form 8944, Preparer e-file Hardship Waiver Request, is a formal statement completed by specified tax return preparers that cannot e-file income tax returns because of economic hardship, bankruptcy, or presidentially declared disaster. If this request is approved, a preparer will be able to file paper returns on behalf of their clients.
The latest version of this form was issued by the Internal Revenue Service (IRS) on September 1, 2018, with all previous editions obsolete. You may download an IRS Form 8944 fillable version below.
Follow these steps to complete IRS Form 8944:
State the year for which you want to request a hardship waiver and indicate whether this is your first submission or you need to dispute the denial of your original request.
Record your full name, address, and telephone number. Enter your preparer tax identification number.
If you have to submit eleven or more tax returns, check the appropriate box and write down the name and employer identification number of the firm.
Choose the forms for which you request a waiver and enter the number of returns you have filed before and are expected to file now - including the returns you need to file on behalf of the firm.
If you use any software for tax preparation, answer "yes."
Provide the reason for the request and explain the hardship or disaster that forced you to file this form.
Record the average preparation fees and cost estimates calculated by two third parties.
Certify all your statements are true and complete, indicate your title, sign and date the document. The deadline for filing Form 8944 is February 15 of the year following the reporting year you need a waiver for.
Download IRS Form 8944 Preparer E-File Hardship Waiver Request