Motor Vehicle Bill of Sale Form - Alabama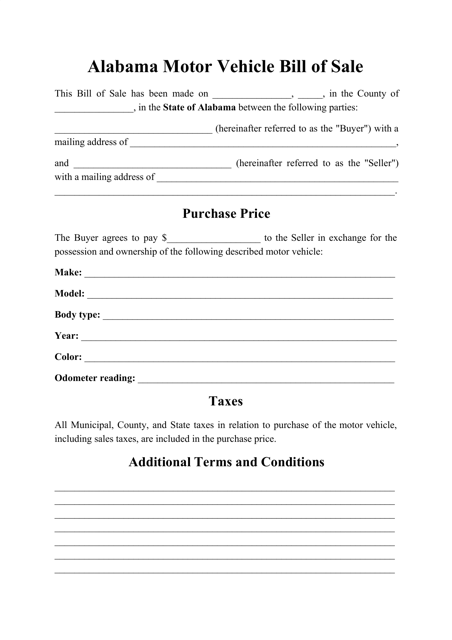 What Is an Alabama Vehicle Bill of Sale?
An Alabama Vehicle Bill of Sale is a legal document to prove the sale and purchase of motor vehicles between two individuals or between an entity and an individual in Alabama. The form protects the seller in case the buyer does not register the vehicle or if they abandon it. It also protects the buyer against any third party who may claim ownership of the asset. The state requires preparing and signing a bill of sale when selling cars, trailers, and trucks, especially where there is no vehicle title available for title reassignment.
You can use our customizable online template to build your own Alabama Vehicle Bill of Sale or download a ready-made form below. Even though the state of Alabama does not have a government-issued form for these purposes, the following counties have official state-issued vehicle bill of sale forms:
Alabama Vehicle Bill of Sale Requirements
For validity, an Alabama motor vehicle bill of sale must clearly identify the vehicle being sold and state its condition, seller's and buyer's contact information, include the cost of the sale, a valid date, and place of the transaction, and any relevant representations and warranties. Moreover, both the seller and the buyer must sign it, as well as their witnesses. The state requires that the seller and the buyer keep copies of the executed form for their records.
In Alabama, the bill of sale is needed for the transference of title. The buyer is responsible for the title and tag registration in their home county within 20 calendar days from the date of purchase. This is to transfer the vehicle to the buyer's name without penalties or daily accrued interests.
How to Write a Bill of Sale for a Car in Alabama?
A motor vehicle bill of sale in Alabama can be written based on a template, which usually includes the following information:
Buyer and seller information. Write their full names and street addresses including their cities.
Description of the vehicle. State the vehicle's make, model, year, Vehicle Identification Number, color, body type, mileage, tag no., and any other applicable information on the vehicle.
Price. Enter the total amount for which the vehicle was sold.
Condition of the vehicle. State if it is free of lien and encumbrances, and if both parties agree that the vehicle is sold as is.
Signatures. The buyer, the seller, and the notary or witnesses must sign and date the form.
Does a Vehicle Bill of Sale Have to be Notarized in Alabama?
Alabama requires that bills of sale be notarized, although two witnesses may be accepted to witness the signing in lieu of a notary. The importance of complying with this requirement is to have proof of the authenticity of the document and protect the transaction as valid.
Download Motor Vehicle Bill of Sale Form - Alabama