Advance Directive for Health Care Form - Colorado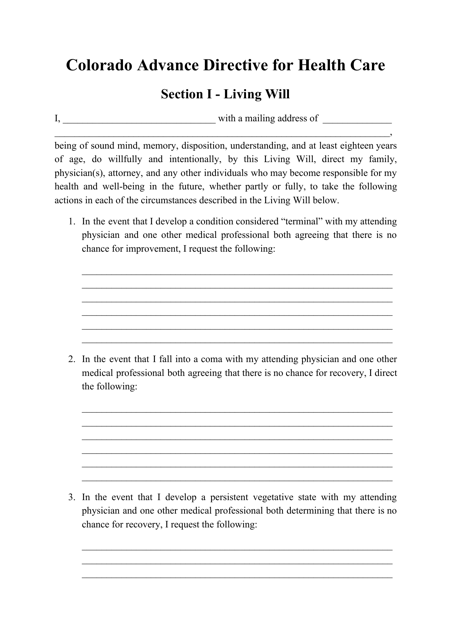 A Colorado Advance Directive is a set of written legal instructions regarding an individual's wishes and preferences for medical care that become effective in the events when they are unable to make decisions for themselves. If a patient does not have their health care wishes specified, these decisions can be placed in the hands of family members, doctors, or even judges, who may know very little about what the patient prefers. Download a ready-made directive through the link below or create your own form with our form builder.
There is a difference between an Advance Directive for Health Care and a Living Will in Colorado. The former comes into force in all cases when an individual is too ill to communicate or unconscious. The latter is a specific type of directive that takes effect when a patient is terminally ill and only lists decisions about life-sustaining medical procedures.
The form is defined by § 15-18-101 to § 15-18-113 of the Colorado Revised Statutes. Colorado law allows individuals to make Advance Directives through Living Wills, medical durable powers of attorney, do not resuscitate orders, Five Wishes, and other forms.
What Is a Colorado Advance Directive?
An Advance Directive is a written form that lists an individual's preferences for medical care and grants a spouse, child, family member, friend or attorney the authority to make decisions regarding health care on the individual's behalf. All of these documents include two separate parts:
A Medical Power of Attorney - also known as a Health Care Power of Attorney - in which the individual elects a person to make medical decisions when they are unable to do so due to being terminally ill, seriously injured, in a coma or near the end of life.
A Living Will - a written, legal document that lists an individual's wishes regarding life­-sustaining procedures, pain management or organ donation that takes effect when the patient is terminally ill.
How to Write an Advance Directive in Colorado?
Decide on whether you want to include a Living Will in your Advance Health Care instructions.
If you decided to include a Living Will be specific about such things as CPR, breathing machines, antibiotics, kidney dialysis, tube-feeding, and certain surgical procedures that you are willing to authorize.
Discuss your decisions with your partner or spouse, your doctor, and your attorney.
Elect a decision-maker - a health care proxy or agent. Choose someone you believe will be able to follow your wishes whatever those may be. This will help ensure that your wishes are carried out correctly and in full.
Download Advance Directive for Health Care Form - Colorado