Advance Directive for Health Care Form - Georgia (United States)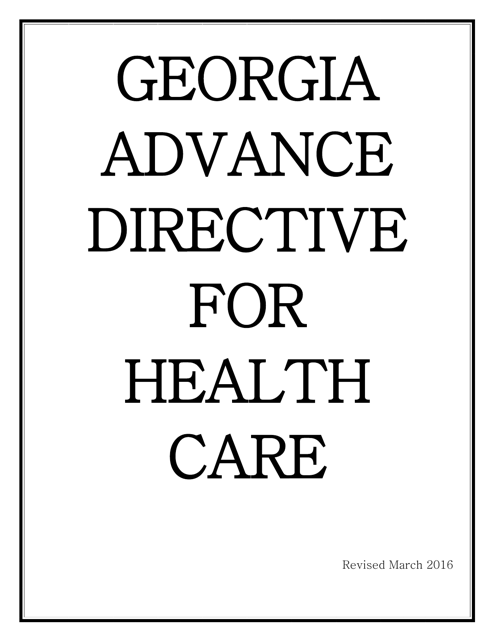 The Georgia Advance Directive for Health Care is a set of written legal instructions regarding an individual's wishes and preferences for medical care that become effective in the events when they are unable to make decisions for themselves. The document was released by the Division of Aging Services of the Georgia Department of Human Services in March 2016. The ready-made Advance Directive is available for download through the link below.
There is a difference between this form and a Living Will in Georgia. Advance directives come into force in all cases when an individual is too ill to communicate or unconscious. A Living Will is a specific type of directive that takes effect when a patient is terminally ill and only lists decisions about life-sustaining medical procedures.
A Georgia Advance Directive is defined by § 31-32-2 of Chapter 32. The document must be signed by two (2) credible witnesses. Both witnesses must be at least eighteen (18) years of age and of sound mind.
What Is a Georgia Advance Directive?
Advance Directives are legally binding documents that outline an individual's wishes regarding life support, resuscitation and other interventions for both their health care team and family members. The paperwork includes two parts in total - a Living Will and a Medical Power of Attorney.
A Living Will is a legal document that intends to ensure and specify an individual's end-of-life wishes regarding health care and medical treatment in the event of their permanent incapacity. A Medical Power of Attorney - otherwise called a Healthcare Proxy or a Durable Power of Attorney for Health Care - is a form that selects an agent to make medical decisions on the behalf of the individual signing the document.
How to Write an Advance Directive in Georgia?
Learn the necessary components of the document. Consider including a Living Will to express end-of-life medical preferences. Designate a health care proxy - or agent - using a healthcare power of attorney.
Get the required paperwork and begin filling out your form.
Determine your wishes on CPR, breathing tubes, feeding tubes, surgeries, kidney dialysis, and organ donation.
Discuss your wishes with your partner, family, friends and healthcare providers to make sure your plans are known to them ahead of time.
Hand copies of the certified and signed form to your healthcare proxy and doctors. Keep the original in an obvious easy-to-find place with your other paperwork and keep more copies handy.
Download Advance Directive for Health Care Form - Georgia (United States)