Advance Directive for Health Care Form - Michigan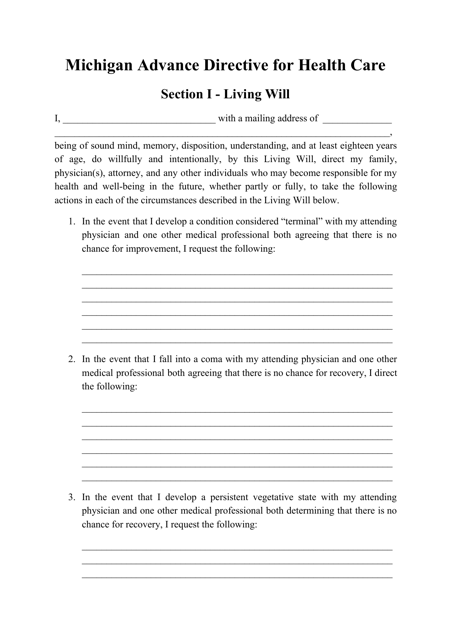 A Michigan Advance Directive for Health Care ensures that an individual's wishes regarding health care are carried out even in situations when they are unable to make them known due to a terminal illness or being unconscious or too ill to communicate. Michigan does have any specific laws for these forms. Two witnesses are required for a Designation of Patient Advocate for Health Care.
Make your own Advance Directive with our form builder or download a pre-made form through the link below.
Advance care planning involves learning about the types of decisions that might need to be made, considering and adjusting those decisions ahead of time, and then letting others - both the individual's family and their health care providers - know about their medical treatment preferences.
There is a difference between an Advance Directive and a Living Will in Michigan. A Living Will is a part of the Advance Health Care Directive paperwork that covers end-of-life treatment and takes effect only in the event of a terminal illness.
What Is a Michigan Advance Directive?
An Advance Directive is a series of forms that specify an individual's medical treatment preferences and become effective if the individual becomes terminally ill, is seriously injured, in the late stages of dementia or in a coma.
All of these documents include a Living Will and a Medical Power of Attorney - otherwise known as a Health Care Power of Attorney.
Living Wills are written for health care professionals and specify the types of life-prolonging treatments or procedures to perform if the individual is in a terminal condition or in a persistent vegetative state.
A Medical Power of Attorney allows the individual to name a health care proxy to make medical decisions if they become unable to make those decisions for themselves. It is important that the designated proxy knows and understands the patient's wishes and preferences and has a written copy of the Advance Directive for Health Care.
How to Write an Advance Directive in Michigan?
Creating an Advance Care Directive in Michigan usually features the following steps:
Learn the necessary components of the document. Consider including a Living Will to express end-of-life medical preferences. Designate a health care proxy - or agent - using a health care power of attorney.
Get the required paperwork and begin filling out your form.
Determine your wishes on CPR, breathing tubes, feeding tubes, surgeries, kidney dialysis, and organ donation.
Discuss your wishes with your partner, family, friends and medical providers to make sure your plans are known to them ahead of time.
Hand copies of the certified and signed form to your health care proxy and doctors. Keep the original in an obvious easy-to-find place with your other paperwork and keep more copies handy.
Download Advance Directive for Health Care Form - Michigan