Advance Directive for Health Care Form - New Hampshire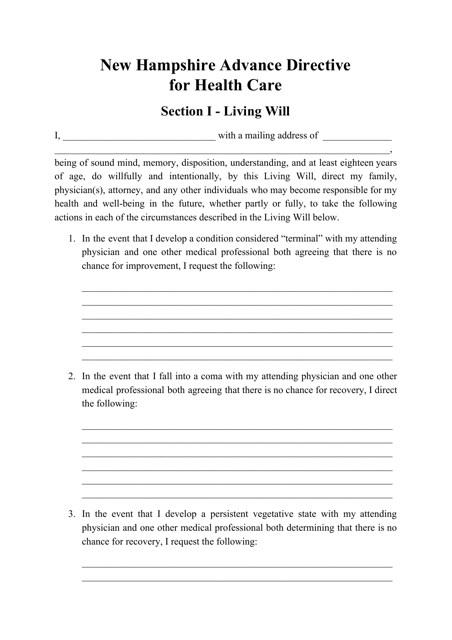 A New Hampshire Advance Directive ensures that an individual's wishes regarding health care are carried out even in situations when they are unable to make them known due to a terminal illness or being unconscious or too ill to communicate. There is a difference between this document and a Living Will in New Hampshire. A Living Will is a part of the Advance Health Care Directive paperwork that covers end-of-life treatment and takes effect only in the event of a terminal illness.
Advance care planning involves learning about the types of decisions that might need to be made, considering and adjusting those decisions ahead of time, and then letting others - both the individual's family and their health care providers - know about their medical treatment preferences.
A New Hampshire Advance Directive is regulated by Chapter 137-J (Written Directives for Medical Decision Making for Adults Without Capacity to Make Health Care Decisions) and must be signed by two (2) or more subscribing witnesses. You can download a ready-made version of the document below or make your own form with our form builder.
What Is a New Hampshire Advance Directive?
Advance Directives are legally binding documents that outline an individual's wishes regarding life support, resuscitation and other interventions for both their health care team and family members. The paperwork includes two parts in total - a Living Will and a Medical Power of Attorney.
A Living Will is a legal document that intends to ensure and specify an individual's end-of-life wishes regarding health care and medical treatment in the event of their permanent incapacity. A Medical Power of Attorney - otherwise called a Durable Power of Attorney for Health Care - is a form that elects an agent to make medical decisions on the behalf of the individual signing the document.
How to Write an Advance Directive in New Hampshire?
Decide on whether you want to include a Living Will in your Advance Health Care instructions.
If you decided to include a Living Will be specific about such things as CPR, breathing machines, antibiotics, kidney dialysis, tube-feeding, and certain surgical procedures that you are willing to authorize.
Discuss your decisions with your partner or spouse, your doctor, and your attorney.
Elect a decision-maker - a health care proxy or agent. Choose someone you believe will be able to follow your wishes whatever those may be. This will help ensure that your wishes are carried out correctly and in full.
Give a copy of the document to your health care proxy and ask for it to be kept in a safe place. Keep the original in an easy-to-find place. Do not lock it in a safe-deposit box or filing cabinet that only you can access.
Download Advance Directive for Health Care Form - New Hampshire