DA Form 5748-R Shipment Unit Packing List and Load Diagram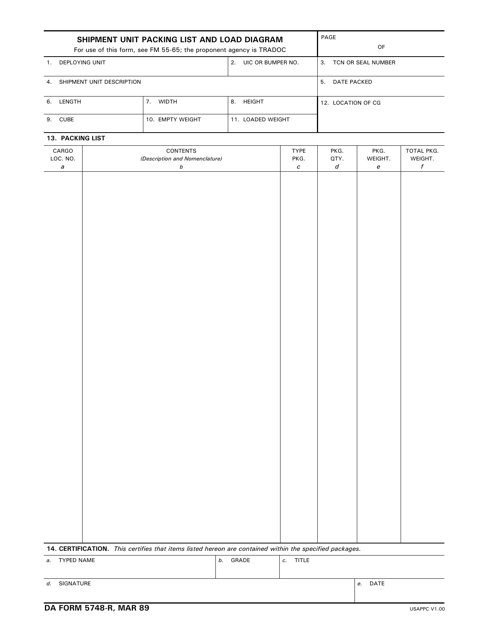 What Is DA Form 5748-R?
DA Form 5748-R, Shipment Unit Packing List and Load Diagram, is an official form that must accompany all military cargo transported in containers, pallets, crates, bundles, and vehicles. It shows the contents of cargo unless you transport empty cans or vehicles.
Download a printable copy of the form via the link below or access DA Form 5748-R fillable version through our online PDF-filing application.
This form, issued by the U.S. Department of the Army (DA) on March 1, 1989, offers military officers responsible for the shipment the easiest way to perform inventory, identify the cargo for further deployment of equipment and vehicles, and manage its movement through the transportation system.
How to Fill Out DA Form 5748-R?
Here is how to complete DA Form 5748-R:
State the deploying unit's name and its identification code or the vehicle's bumper number.
Write down the transportation control number or number on the container seal.
Briefly describe the contents of the general shipment unit. Enter the date you the cargo is packed.
Record the measurements of the shipment unit - its length, width, height, and cubic feet.
Indicate the vehicle's or shipping container's empty and loaded weight. Determine the location of the center of gravity for proper maintenance and safety.
Describe the cargo - list its location numbers, write down the contents of containers and vehicles, indicate the type of package, the package quantity, and weight.
Record your name, grade, and title. Sign the form.
Prepare a sketch of the cargo you described in the form. You need to create the load diagram with the location of all loaded items, their short description that mentions potential loading issues and instructions, the type of the vehicle or container, and all materials required to secure the cargo in the shipment unit.
Add remarks and comments if necessary.
Note that it is not allowed to list classified material if the shipment unit contains it. Prepare five copies of the document - for the movement plan, the outside and inside of the shipment unit, for the representative of the unit, and for you - a military officer responsible for the initial shipment.
Download DA Form 5748-R Shipment Unit Packing List and Load Diagram