Form DE2501 Claim for Disability Insurance (Di) Benefits - California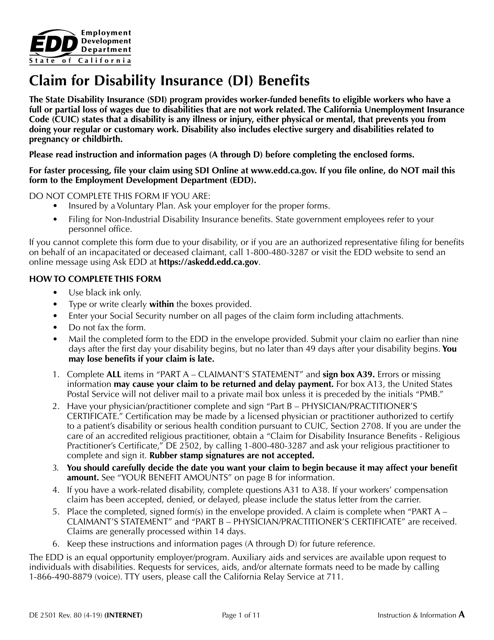 Fill PDF Online
Fill out online for free
without registration or credit card
What Is Form DE 2501?
Form DE 2501, Claim for Disability Insurance (DI) Benefits, is a form to request, by mail, worker-funded benefits to eligible workers who have a full or partial loss of wages due to disabilities that are not work-related.
Alternate Name:
California Disability Form.
Your employer will be notified if you submit a DI claim, but your personal information is confidential and will not be shared. The California Unemployment Insurance Code (CUIC) states that any illness or injury - either physical or mental - that prevents you from doing regular work is a disability. This also includes surgeries and complications related to pregnancy or childbirth.
The California Disability form was issued by the Employment Development Department on April 1, 2019. A printable DE 2501 Claim Form is available for download below.
How to Fill Out Form DE 2501?
Form DE 2501 can not be used if you are insured by a voluntary plan or filing for non-industrial disabilities insurance benefits. In order to be eligible, you must be unable to do regular work for at least 8 days, be employed or actively looking for work at the time of the disability, have lost wages due to the disability, and/or be under the care or treatment of a licensed physician. Claimants must complete the form within 49 days of becoming disabled and provide medical certification of the disability.
Step-by-step DE 2501 Form instructions are provided below. Submit your claim no earlier than 9 days and no later than 49 days after your disability begins, or you may lose eligibility.
Gather the required information. You must make sure to provide the following information: first and last name, social security number, California Driver License number, most current employer's business name, phone number, and mailing address (as stated on your W-2 or paystub), last date you worked your regular duties and hours or date you began working at less than full duty or modified duty. Provide the following information on the form only if it applies to you: any wages you received or expect to receive from your employer, any workers' compensation claim information, if applicable, and provide the name, address, and phone number of any in-patient treatment at an alcoholic recovery home or drug-free facility.
Complete the HIPAA Authorization and Part A - Claimant's Statement (pages 1-4), of the DE 2501 Form. Write clearly in the spaces provided, use black ink only, and sign the form where indicated.
After completing Part A, contact your physician/practitioner about completing, signing, and submitting your medical certification (Part B - Physician/Practitioner's Certificate, pages 5-7). You are responsible for obtaining a Physician/Practitioner Certification for your disability. Talk to your physician/practitioner about their process for submitting a DI claim. They do not all follow the same process. Some offices may have you mail in Part B, while others may mail in Part B themselves.
Where to Mail Form DE 2501?
To submit the claim, attach a postage stamp to a pre-addressed envelope and mail the completed paper claim form to the following address: State of California Employment Development Department, PO Box 989777, West Sacramento, CA 95798-9777
If you are not eligible for benefits, a Notice of Determination (DE 1080CZ) will subsequently be mailed to you. You must meet eligibility requirements to receive benefits. If you are disqualified from receiving benefits, you will receive an Appeal Form (DE 1000A) with your disqualification notice. You have the right to appeal any decision, in writing, within 30 days of the mailing date of the disqualification notice.
Download Form DE2501 Claim for Disability Insurance (Di) Benefits - California