Form FDACS-16036 Application for Concealed Weapon or Firearm License - Florida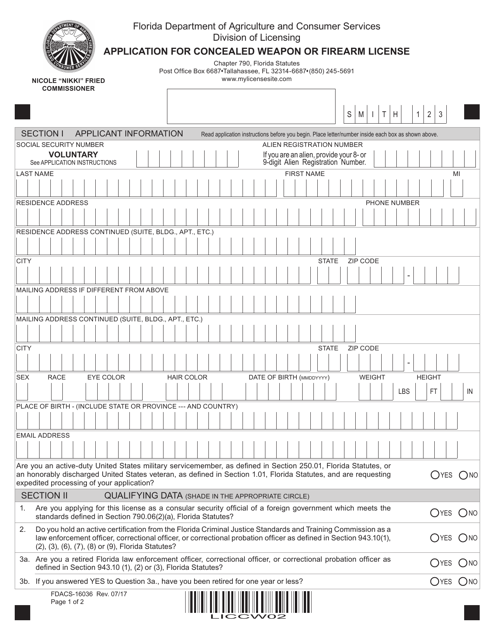 Fill PDF Online
Fill out online for free
without registration or credit card
What Is Form FDACS-16036?
Form FDACS-16036, Application for Concealed Weapon or Firearm License , is a formal document Florida residents and eligible non-residents need to file to obtain permission to carry a weapon of their choice in a concealed manner. Before any individual may have a concealed gun in their possession, they must apply for a specific license at the regional office of the Florida Division of Licensing, send an application by traditional mail, or send their request electronically via mylicensesite.com. Florida is a so-called "shall-issue" state which means the license is subject to meeting certain criteria - you need to submit to the authorities the information about your military history and potential criminal issues you might have had in the past.
Alternate Name:
Florida Concealed Firearm License Application.
This form was issued by the Florida Department of Agriculture and Consumer Services (FDACS) on July 1, 2017 , with all previous editions obsolete. A fillable Florida Concealed Firearm License Application is available for download below.
FDACS-16036 Instructions
Follow these steps to fill out Florida Application for Concealed Weapon:
Enter your social security number or alien registration number.
Write down your full name, address, and telephone number. If your mailing address is different, add it to the application.
Record your sex, race, eye and hair color, date and place of birth, weight and height, and email address.
Answer several questions about your life - whether you have ever been a servicemember or a law enforcement officer, whether you have given up citizenship, and are you living in the U.S. permanently. You need to put an X in the appropriate box to certify that you have never had a felony or misdemeanor charge.
Confirm you are aware of the existing state laws that relate to firearms and weapons, you need a license for self-defense, you do not have a physical condition that would prevent you from using the firearm or weapon safely, and all the statements you have provided in the application are true and accurate.
Sign and date the form.
To apply for a license, you can appear personally at a local FDACS office or mail the documentation to the FDACS Division of Licensing, PO Box 6687, Tallahassee, Florida 32314-6687. If the latter option is preferable, you have to attach photocopies of your fingerprints obtained from the county sheriff and a color photograph. Within ninety days you will receive a license in the mail or, in the event of refusal, you will get a document that denies your request. You can find more about the filing process at mylicensesite.com.
Download Form FDACS-16036 Application for Concealed Weapon or Firearm License - Florida