This version of the form is not currently in use and is provided for reference only. Download this version of Formulario 4122-S for the current year.
Formulario 4122-S Registro De Prestacion De Servicios En El Hogar Anfitrion O Por Un Acompanante - Texas (Spanish)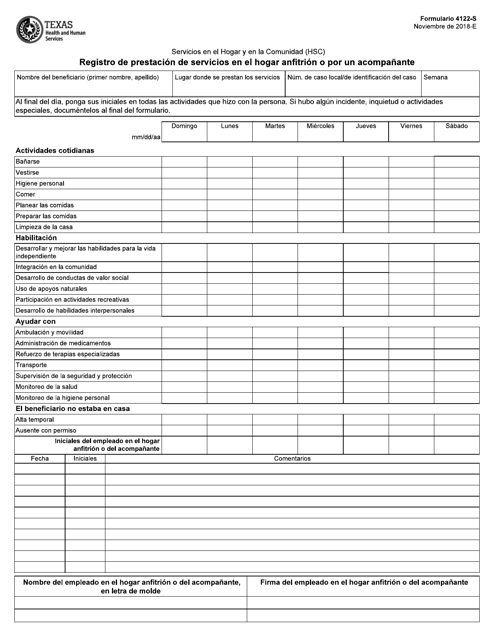 Fill PDF Online
Fill out online for free
without registration or credit card
Qué es Formulario 4122-S?
Este es un formulario legal que fue publicado por el Texas Health and Human Services, una autoridad gubernamental que opera dentro de Texas. A partir de hoy, el departamento emisor no proporciona en separado pautas de presentación para el formulario.
Detalles del formulario:
Publicado el 1 de noviembre de 2018;
La última versión proporcionada por el Texas Health and Human Services;
Lista para utilizar e imprimir;
Fácil de personalizar;
Compatible con la mayoría de las aplicaciones para visualizar PDF;
Complete este formulario en línea.
Descargue una versión del Formulario 4122-S haciendo clic en el enlace debajo o busque más documentos y plantillas proporcionados por el Texas Health and Human Services.
Download Formulario 4122-S Registro De Prestacion De Servicios En El Hogar Anfitrion O Por Un Acompanante - Texas (Spanish)