State Form 54985 Small Estate Affidavit ($50,000) - Indiana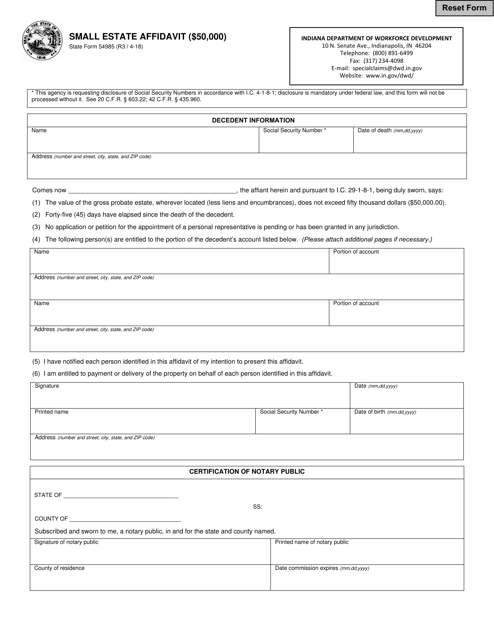 Indiana Small Estate Affidavit Form: What Is It?
An Indiana Small Estate Affidavit is a formal instrument composed by the heir of a small estate to take advantage of the opportunity to access the assets and funds of the deceased owner quickly.
Alternate Name:
Instead of going through time-consuming court proceedings, you can prepare a written claim and give every heir of the estate owner their inheritance if the person passed away without leaving a will.
A fillable Indiana Small Estate Affidavit can be downloaded below.
How Do I File a Small Estate Affidavit in Indiana?
Here are the guidelines that will help you to draft an Indiana Small Estate Affidavit Form:
Make sure the estate adheres to the regulations set by the state. The amount of the estate must not exceed $50.000 with liens and funeral costs excluded from this amount. Besides, cars and vessels are also not included in the estate you can claim - you will have to transfer them to heirs separately. You will also need to comply with the forty-five days waiting period prior to notarizing the form - a notary seal is obligatory for the estate settlement.
Complete the affidavit. It has to include the information about the person making it, the estate owner, and the assets you are planning to get access to in the future. Identify the estate owner, specify their date of death and last address, enter your own name and confirm you have complied with the regulations that govern the preparation of the affidavit, list names and addresses of the people that are supposed to become the owners of the estate alongside you, certify you have properly informed all the heirs about your plans to fill out the affidavit and you bear responsibility for delivering the assets to them. To finalize the affidavit, you need to sign and date it, and record your name, date of birth, and contact address.
Book an appointment with the notary public who will verify your identity and the authenticity of the affidavit. Once it is ready, you are not obliged to file it with the local county clerk or notify any authorities about its existence - you simply present the form to the individual or entity that holds the assets and receive them.
Download State Form 54985 Small Estate Affidavit ($50,000) - Indiana