DA Form 3986 Personnel Asset Inventory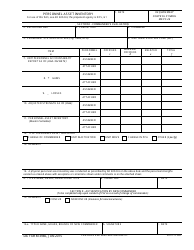 DA Form 3986 - also known as the "Personnel Asset Inventory" - is a United States Military form issued by the Department of the Army.
The form - often mistakenly referred to as the DD form 3986 - was last revised on June 1, 2015. Download an up-to-date fillable PDF version of the DA 3986 down below or look it up on the Army Publishing Directorate website.
1. DATE
REQUIREMENT
PERSONNEL ASSET INVENTORY
CONTROL SYMBOL
For use of this form, see AR 600-8-6; the proponent agency is DCS, G1
MILPC-26
SECTION I - COMMANDER'S EVALUATION
2. REPORTING UNIT
3. PARENT UNIT
4. COMMAND
5. PERMANENT STATION LOCATION (City, State, APO)
6. UNIT IDENTIFICATION CODE (UIC)
WARRANT
PERSONNEL
OFFICERS
ENLISTED
TOTAL
ITEM
OFFICERS
a
b
c
d
e
f
7. UNIT PERSONNEL ACCOUNTABILITY
ASSIGNED
REPORT AS OF (AAA-162 DATE)
ATTACHED
ASSIGNED
8.
GAINS
+
ATTACHED
ASSIGNED
9.
LOSSES
-
ATTACHED
10. ADJUSTED STRENGTH AS OF (Date)
ASSIGNED
ATTACHED
11. PERSONNEL ASSET INVENTORY
ASSIGNED
(Muster Formation)
ATTACHED
12. TYPE PERSONNEL ASSET INVENTORY
CHANGE OF COMMANDER
UNIT INACTIVATION
UNIT MOVE
CHANGE IN PPA
OTHER (Specify)
13. REMARKS
14. A physical personnel asset inventory was conducted as prescribed by AR 600-8-6 on the above date and the personnel strengths
existed as entered above with exceptions or corrections shown under comments or on the attached sheet.
a. TYPED NAME, GRADE, BRANCH AND TITLE
b. SIGNATURE
c. DATE
SECTION II - AUTHENTICATION BY NEW COMMANDER
(To be completed only upon conduct of PAI as a result of change of commanders)
15. REMARKS
CONCUR
NONCONCUR (Reasons for nonconcurrence)
16.a. TYPED NAME, GRADE, BRANCH OF NEW COMMANDER
b. SIGNATURE
c. DATE
DA FORM 3986, JUN 2015
PREVIOUS EDITIONS ARE OBSOLETE.
APD LC v1.00ES