Tournament Sign up Sheet Template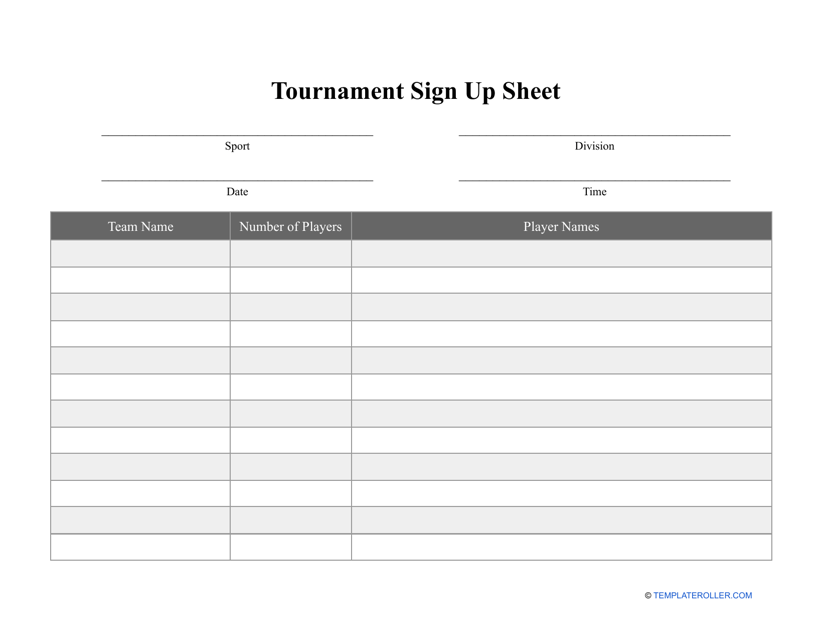 What Is a Tournament Sign Up Sheet?
A Tournament Sign Up Sheet is used to keep a record of any players taking part in any tournament. The tournament can be a large scale tournament or even a small local one. The tournament can be centered around sport, board games or anything that you decide.
Alternate Name:
Tournament Registration Form.
The main purpose of using a Tournament Sign Up Sheet is to be aware of which players and the number of players that have registered for a tournament. Information about tournament registration can provide information regarding training sessions, matches, availability, and transport. All of these are important considerations to take into account when planning a tournament and they should be carefully thought through in order to plan and execute a successful tournament.
The more time you spend on your Sign Up sheet, the more attractive it will look. This means that more people are likely to take notice and if your sheet looks the part, they will be more likely to sign up to your tournament. It may seem unfair, but people will make a judgment on the type of tournament you are going to host based on your sheet as this is the first thing they will see. If your sheet is messy and boring, potential players will assume the tournament will be like this too.
A Tournament Sign Up Sheet template can be downloaded by clicking the link below.
How to Make a Registration Form for a Tournament?
Making a Registration Form for a Tournament is very quick and simple, particularly if you read our tips below to ensure that you know all of the relevant points to include:
First of all, you should give the sheet an appropriate title outlining the name of the tournament so that people know exactly what they are entering;
Details concerning the date, time, and location of the tournament should also be clearly stated at the top of the sheet;
Provide a section for players to leave their full name and any relevant contact details. Contact details can include telephone numbers, emails, and full addresses. This is important as the tournament organizer may be in touch to inform players about any possible changes;
If players in your tournament can choose different positions, for example, it may be wise to ask them to state a preference;
If you are fundraising, leave space for people to write down the amount of money that they donated.
---
Still looking for a particular template? Take a look at the related templates below:
Download Tournament Sign up Sheet Template