Thanksgiving Food Drive Flyer - Tasty Meals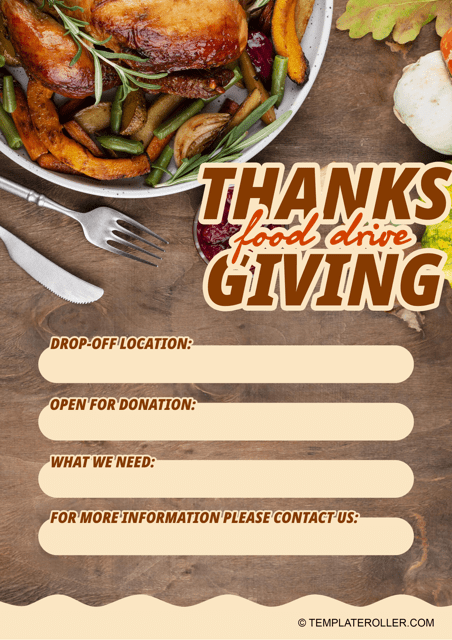 Fill PDF Online
Fill out online for free
without registration or credit card
Thanksgiving Food Drive Flyer: What Is It?
A Thanksgiving Food Drive Flyer is created in order to motivate and persuade people to make specific donations, contributing to a specific center or charity where all proceeds will be donated to the less fortunate, helping them to avoid hunger. The perfect time to do this is during Thanksgiving, the perfect time to ponder all of the things we are lucky for and most importantly to give thanks.
Of course one of the main constituents of Thanksgiving is all of the delicious food but unfortunately, in the society we live in there are still many people not as privileged that may face daily battles to find enough food to survive. By creating a Flyer for a Thanksgiving Food Drive you can inform locals about the items you require for donation.
You can start by finding an appropriate template that will contain the necessary structure and format required for a Thanksgiving Food Drive Flyer. All that you would need to do is simply personalize it with your specific details. However, many people might find it difficult to customize such flyers because they are not intended for the marketing of a specific business. The most important requirement with food drive flyers is to make sure to include all of the relevant information.
A Thanksgiving Food Drive Flyer template can be downloaded by clicking the link below.
How to Do a Thanksgiving Food Drive?
The most difficult thing about organizing a Thanksgiving Food Drive is ensuring that your flyer is well-made. If you are stuck on Thanksgiving Food Drive Flyer ideas then please see the list below which outlines some of the most important things that you need to consider when creating your flyer:
Make a list of the people or organizations that you will distribute the donations to. For example, you may need to contact community food banks and any local hunger organizations and you should also be familiar with their policies. It is important that people know where their donations are going;
Plan how a flyer can be used to raise awareness. They should emphasize the need for food donations by highlighting the difficulties of people;
Ensure that your flyer includes all of the essential information such as when you will start collecting donations, when the deadline is and of course the place where donations can be left;
You must also include a well-thought-out list of the items that you will require. These foods usually include canned foods or other foods with a large expiry date. In some cases, donations can be made in cash;
The main objective, no matter how the flyer is designed, is to promote as much involvement as possible. You should seek to create a flyer that will link your community together and get as many donations as possible;
Places of worship, local libraries, community centers, online platforms, and schools could be popular places to distribute your flyers;
You must create memorable phrases and attention-grabbing pictures for publicity. They ought to convince and inspire the neighborhood to take action.
---
Haven't found the template you're looking for? Take a look at the related templates below:
Download Thanksgiving Food Drive Flyer - Tasty Meals