Closed for Thanksgiving Sign - Turkey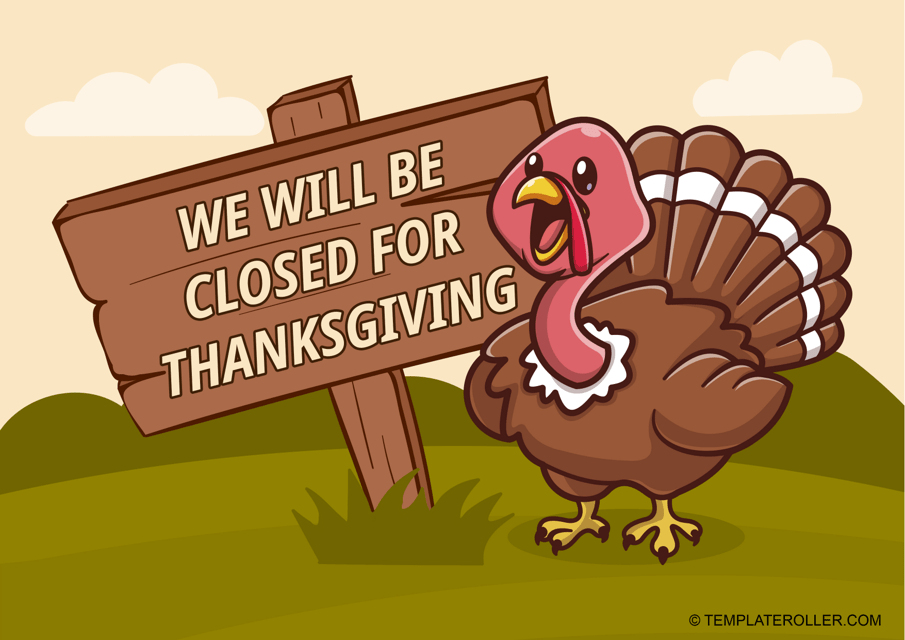 Fill PDF Online
Fill out online for free
without registration or credit card
Closed for Thanksgiving Sign: What Is It?
A Closed for Thanksgiving Sign is created to inform individuals (mainly customers) that your business will be shut due to the Thanksgiving celebrations as many businesses close to celebrate it.
Alternate Names:
Thanksgiving Closed Sign;
Closed Sign for Thanksgiving.
Thanksgiving is one of the largest celebrated traditions in the US and everyone likes gearing up for it. It's a wonderful moment to ponder on all of our privileges, to give thanks and of course to eat turkey.
But companies, their employees and even bosses must also get ready for holidays just like any other person. Out of courtesy, it would be a wise idea to inform your customers about the closure of your business, preferably some time in advance. To do this, you simply need to put up a sign on the door or window in a visible place. You may opt to write a simple note, perhaps even by hand or you can create a unique and personalized sign.
A Closed for Thanksgiving Sign should exhibit a blend of class, originality, and festive charm. The style that you opt to go for will depend on your business sphere. Perhaps you don't really need a sign with some funny turkeys - you might choose a Fall style design with seasonal icons such as pumpkins for your sign.
A Closed for Thanksgiving Sign template can be downloaded by clicking the link below.
How to Write a Closed Sign for Thanksgiving?
Once you have chosen your Closed Sign for Thanksgiving design, the writing part is actually rather easy. We would recommend personalizing your Thanksgiving sign with festive images as well as the company name and logo. You can also use colors associated with Thanksgiving such as orange, brown and red on your sign.
There is no gold standard when it comes to writing a sign; many businesses do so in completely different ways and styles. Here are some ideas you can think about before you sit down to write up your sign:
Most businesses simply write "Closed for Thanksgiving" which is short and concise. Perhaps you can create this sign in the form of a festive pumpkin or turkey. You want to avoid unnecessary text as too much information can discourage customers from reading the sign which is the complete opposite of what you want to achieve;
You may also want to note down a festive wish to your customers to let them know you are still thinking of them during the festive period;
Some businesses will also inform their customers of the specific days and times that they will be closed. If you are closing just for a day, it may be worth mentioning or if you will remain open with changes to your working hours, you should also state this information;
Likewise, you can include information about when you plan on reopening your business.
It goes without saying that the font and colors of the text should be easily read and should only provide the necessary information.
---
Haven't found the template you're looking for? Take a look at the related templates below:
Download Closed for Thanksgiving Sign - Turkey