DD Form 2963 Service Treatment Record (Str) Certification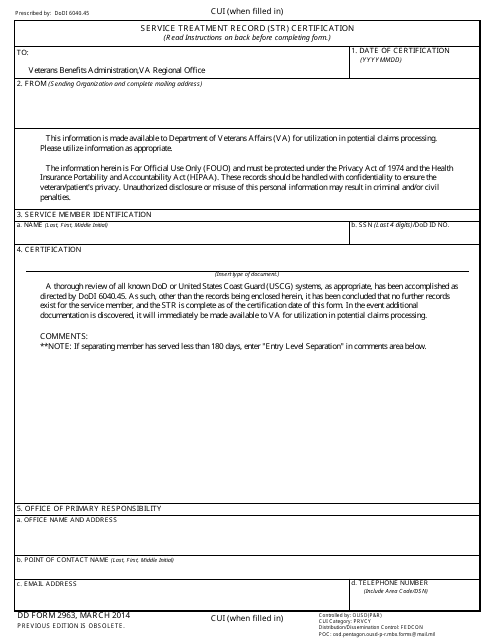 Fill PDF Online
Fill out online for free
without registration or credit card
What Is DD Form 2963?
This is a form that was released by the U.S. Department of Defense (DoD) on March 1, 2014. The form, often mistakenly referred to as the DA Form 2963, is a military form used by and within the U.S. Army. As of today, no separate instructions for the form are provided by the DoD.
Form Details:
A 2-page document available for download in PDF;
The latest version available from the Executive Services Directorate;
Additional instructions and information can be found on page 2 of the document;
Editable, printable, and free to use;
Fill out the form in our online filing application.
Download an up-to-date fillable DD Form 2963 down below in PDF format or browse hundreds of other DoD Forms compiled in our online library.
How to Fill Out DD Form 2963?
Additional guidelines and filing information and see the Department of Defense Instruction Number 6040.45 released on November 16, 2015. DD Form 2963 instructions are as follows:
The date of certification should be specified in Block 1;
The complete mailing address of the sender or command should be provided in Block 2;
Block 3 is for providing personal identifying information about the service member. This includes their legal name and the last four digits of their Social Security Number (SSN) or DoD ID Number;
Block 4 is a drop-down list with three document types to choose from. Additional comments may be provided in the space below the drop-down list, if necessary. The provided options include:

A complete STR (Medical and Dental);
A medical record;
A dental record.

Block 5 - Office of Primary Responsibility - requires information about the Office of Primary Responsibility or Point of Contact (POC). This includes the name and address of the Medical Treatment Facility (MTF) or Dental Treatment Facility (DTF), the name of the POC and the commercial number of the MTF or DTF.
Download DD Form 2963 Service Treatment Record (Str) Certification