DA Form 2062 Hand Receipt / Annex Number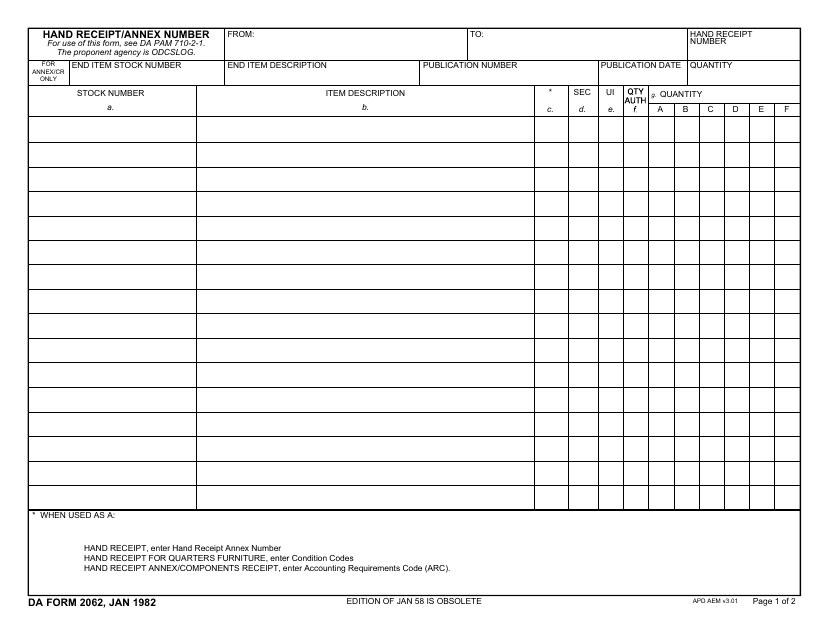 Fill PDF Online
Fill out online for free
without registration or credit card
What Is DA Form 2062?
This is a military form that was released by the U.S. Department of the Army (DA) on January 1, 1982. The form, often mistakenly referred to as the DD Form 2062 Record of Preparation and Disposition of Remains (Outside Conus), is a military form used by and within the U.S. Army. As of today, no separate instructions for the form are provided by the DA.
Form Details:
A 2-page document available for download in PDF;
The latest version available from the Army Publishing Directorate;
Editable, free, and easy to use;
Fill out the form in our online filing application.
Download an up-to-date fillable DA Form 2062 down below in PDF format or browse hundreds of other DA Forms stored in our online database.
DA Form 2062 Instructions
There are several ways to fill out the DA 2062 Form depending on its intended use.
The first two boxes require the information about the individual or unit supplying the property and to whom the property is transferred. Fill in the third box on the top of the page with the serial number of the current form.
The second line of the form - the annexer - is for listing the end item's stock number and description, its publication number, date, and quantity.
Fill in the "Stock Number" Column with the stock numbers of all items described in the form. In case if an item has no number, it should be requisitioned by Federal Supply Code for Manufacturers. Part numbers are requisitioned from the U.S. Army.
The "Item Description" Column identifies the item contained in the Components of End Item (COEI), Basic Issue Item (BII ), and the Additional Authorization List (AAL) listings. All these descriptions can be found in the item's technical manuals. This column may also contain additional data that will aid in identifying the item.
Column C depends on the further use of Form DA 2062. It contains the Hand Receipt Annex Number, Condition Codes (if the form is used for quarters furniture), or the ARC for a components receipt.
The rest of DA Form 2062 is divided into a grid with one line for each item with space for the quantity of the items being transferred left at the end of each line.
Thorough and complete instructions on how to fill out DA Form 2062 can be found in the DA Pamphlet 710-2-1.
How Long Is DA Form 2062 Good For?
A DA 2062 is considered to be good for 6 months. Use DA Form 3161, Request for Issue or Turn-In, in case you need to issue a piece of equipment for a longer period of time. The key thing to keep in mind is that DA Form 2062 is a temporary hand receipt and is not supposed to be a permanent record of property.
Download DA Form 2062 Hand Receipt / Annex Number