DA Form 61 Application for Appointment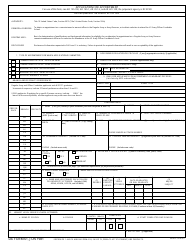 What Is DA Form 61?
DA Form 61, Application for Appointment is mainly used to get an appointment as a commissioned or warrant officer in the United States Army Reserve or Regular Army, as well as to apply for attending the U.S. Army Officer Candidate School.
The application – sometimes confused with the DD Form 61, Request For Nomenclature – was last revised by the Department of the Army in June 1981. An up-to-date fillable DA Form 61 is available for digital filing and download below or can be found on the Army Publishing Directorate website.
All the information in the document is used as the basis for determining the qualifications and background information on possible applicants and is provided voluntarily. If the candidate fails to disclose the necessary data, the DA 61 will not be accepted.
APPLICATION FOR APPOINTMENT
For use of this form, see AR 135-100, AR 145-1, AR 351-5, and AR 601-100; the proponent agency is DCSPER
DATA REQUIRED BY THE PRIVACY ACT OF 1974
Title 10 United States Code, Section 3012 (Title 5 United States Code, Section 552a)
AUTHORITY:
To obtain an appointment as a commissioned or warrant officer in the Regular Army or Army Reserve, or to obtain selection to attend the US Army Officer Candidate
PRINCIPAL PURPOSE:
School.
Basis for determination of qualifications and background information for eligibility for consideration for appointment as a Regular Army or Army Reserve
ROUTINE USES:
commissioned/warrant officer or for selection for attendance at the US Army Officer Candidate School.
Disclosure of information requested in DA Form 61 is voluntary. Failure to provide the required information will result in non-acceptability of the application.
DISCLOSURE
2. GOVERNING REGULATION OR CIRCULAR (Specify appropriate section(s) if applicable)
1. TYPE OF APPOINTMENT FOR WHICH APPLICATION IS SUBMITTED
COMMISSIONED OFFICER - REGULAR ARMY
3. GRADE FOR WHICH APPLYING (Reserve appointments only)
COMMISSIONED OFFICER - ARMY RESERVE
4.
SOURCE OF APPLICATION (ROTC only)
WARRANT OFFICER - REGULAR ARMY
DMG
DATE DESIGNATED:
WARRANT OFFICER - ARMY RESERVE
SCHOLARSHIP - ENTER 1, 2, 3 OR 4 YEARS:
OFFICER CANDIDATE SCHOOL
5. ONLY FOR APPLICANTS FOR APPOINTMENT AS WARRANT OFFICERS
(List choice by MOS code and title)
6.
BRANCH AND SPECIALTY PREFERENCES
a. MOS CODE
b. MOS TITLE
Regular Army and Officer Candidate applicants and all ROTC graduates:
In numerical sequence, indicate 10 branch preferences other than CA and SS.
USAR applicants: If applying for a specific Reserve vacancy, indicate
ONLY the
branch of the vacant position; all other applicants may enter more than one branch.
PERSONAL DATA
7. NAME (Last, first, middle)(Explain variations from birth certificate in Item 41)
8. GRADE
9a. SOCIAL SECURITY NUMBER
PREFER-
BRANCH
SPECIALTY
ENCE
10. BRANCH
11. TOTAL YRS
12. MARITAL
13. NUMBER OF DEPENDENTS UNDER 18
9b. SELECTIVE SERVICE NUMBER
(MOS if enl or wo)
ACTIVE SERVICE
STATUS
YEARS OF AGE
AD
14. DATE OF
16. SEX
17. COMPLETE MILITARY ADDRESS
(If presently on active duty) (Include ZIP Code)
15. PLACE OF BIRTH (City, county,
AG
BIRTH
state)
AR
AV
PHONE AND/OR AUTOVON NUMBER
CA
18. PERMANENT ADDRESS (Include ZIP Code)
19. CURRENT MAILING ADDRESS (If difference from Item 18) (Include ZIP Code)
CM
EN
FA
PHONE (Include area code)
PHONE (Include area code)
FI
a. NATIVE
b.
20. US
c. APPLICANT'S CERTIFICATE NO. (If Item b. checked) (Date, place, court)
IN
NATURALIZATION
CITIZEN
MI
YES
YES
DERIVED
MP
NO
IMMIGRANT
NO
OD
21. CIVILIAN EDUCATION (See page 3 for additional requirements for professional personnel)
QM
a. HIGH SCHOOL GRADUATE
b. NAME AND LOCATION OF HIGH SCHOOL
SC
YES
NO
SS
(4)
TC
(2)
c. NAME AND LOCATION OF EACH COLLEGE
(3)
(5)
DATE GRADUATED
(1)
SEMESTER
OR UNIVERSITY ATTENDED (Include USMA,
YEARS
MAJOR
AN
OR WILL GRADUATE
DEGREE
CREDITS
USNA, USAFA, USCGA, and USMMA)
ATTENDED
SUBJECT
EARNED
DAY
MONTH
YEAR
CH
DE
JA
MC
MS
d. SPECIAL EDUCATIONAL HONORS, SCHOLAR-
e. IF YOU HAVE EVER BEEN EXPELLED FROM SCHOOL, OR PLACED ON PROBATION, EITHER FOR
SP
SHIPS, ETC.
ACADEMIC OR DISCIPLINARY REASONS, EXPLAIN (Continue in Item 41(Remarks))
VC
22.
HIGHEST LEVEL SERVICE SCHOOL ATTENDED
COMPLETED
c. DATES (Mo-Yr)
a. NAME OF SCHOOL
b. COURSE
d. IF NOT COMPLETED GIVE REASON
FROM
TO
YES
NO
23a. FOREIGN LANGUAGES AND DEGREE OF PROFICIENCY
b. ALAT SCORE (If applicable)
DA FORM 61, JUN 1981
APD LC v2.01ES
EDITION OF 1 AUG 74 AND DA FORM 61-R, 26 SEP 75, PRIVACY ACT STATEMENT, ARE OBSOLETE.
DA Form 61 Instructions
It is strongly recommended for all the candidates to contact their Professor of Military Science, in-service career counselor, or local recruiter for the details regarding completing the form DA 61 and related documents. Most sections of the form are self-explanatory, but some may require additional information:
First, the candidate needs to choose the type of appointment to which they are applying to.
The appropriate number of governing regulation or circular and the applying grade for reserve appointment go in Boxes 2 and 3, respectively.
ROTC applicants must fill in Box 4, Source of Application, and applicants for appointment as warrant officers need to complete Box 5. The properly qualified military may enter up to three MOS codes in the corresponding field.
Box 6 requires the choice of branch specialty preferences. It is necessary to indicate at least 10 branch preferences.

Male applicants are required to choose two combat support arms, two combat arms, and two combat service support arms. The remaining four are left for an applicant to choose.
Females can indicate one combat arm, except IN and AR, 2 combat support arms and 2 combat service support arms. The remaining five can be chosen by an applicant.
Warrant Officer Aviators who want to be commissioned have to list AV as the only choice.

Boxes 7 through 20 require detailed personal information about the applicant.
Boxes 21, 22 and 23 reflecting the levels of military education.
The applicant should carefully read the statements in Boxes 24, 25 and 26 and tick the appropriate boxes. They must then choose and complete all following sections according to their branch of service and sign the form.
The complete Army DA 61 form together with all related documents should be submitted to a unit commander. The date they receive your paperwork is considered as the application submission date.