DA Form 285-w-r Accident Report Summary of Witness Interview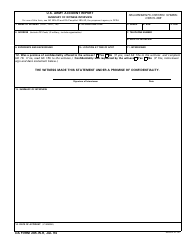 DA Form 285-w-r - also known as the "Accident Report Summary Of Witness Interview" - is a Military form issued and used by the United States Department of the Army.
The form - often mistakenly referred to as the DD form 285-w-r - was last revised on July 1, 1994. Download an up-to-date PDF version of the DA 285-w-r below or request a copy through the chain of command.
U.S. ARMY ACCIDENT REPORT
REQUIREMENTS CONTROL SYMBOL
SUMMARY OF WITNESS INTERVIEW
CSOCS-308
For use of this form, see AR 385-40 and DA Pamphlet 385-40; the proponent agency is OCSA
1. NAME OF WITNESS (LAST, FIRST, MI)
2. OCCUPATION/TITLE
3. GRADE
4. SSN
5. AGE
6. ADDRESS (Include ZIP Code) (If military, include organization)
7. TELEPHONE NUMBER
8. DATE OF INTERVIEW
9. EXPERIENCE AND BACKGROUND
10. LOCATION AT TIME OF ACDT
11. INTERVIEWER
12. Was a promise of confidentiality offered to the witness?
Yes
No (If yes, read blk 15a to the witness and complete
blk 16. If no, read blk 15b to the witness.) Confidentiality was requested by the witness.
Yes
No (If Yes, interviewer
sign and date statement below.)
THE WITNESS MADE THIS STATEMENT UNDER A PROMISE OF CONFIDENTIALITY.
Signature of Interviewer
Date
13. SUMMARY OF INTERVIEW
14. DATE OF ACCIDENT (YYMMDD)
DA FORM 285-W-R, JUL 94
USAPPC V1.00
Download DA Form 285-w-r Accident Report Summary of Witness Interview