DA Form 285-w Technical Report of U.S. Army Ground Accident - Summary of Witness Interview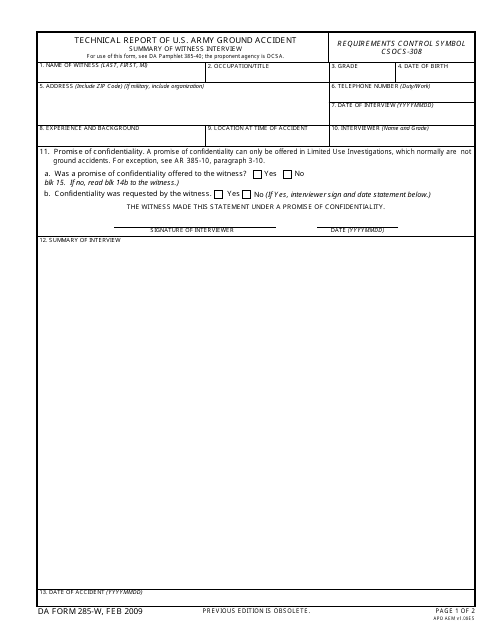 Fill PDF Online
Fill out online for free
without registration or credit card
What Is DA Form 285-W?
DA Form 285-W, Technical Report of U.S. Army Ground Accident Summary of Witness Interview, is a form used for recording interviews with witnesses of accidents that happen on U.S. Army grounds. This form should be submitted along with all Class A and Class B accident reports.
The U.S. Department of the Army (DA) released the latest version of the form - sometimes confused with DD Form 285, Appointment of Military Postal Clerk, Unit Mail Clerk or Mail Orderly - on February 1, 2009. An up-to-date DA Form 285-W fillable version is available for download below or can be found on the Army Publishing Directorate (APD) website.
The DA 285-W must be used when interviewing all personnel involved or injured as the result of the accident. Any individual found to have a causal or contributing role in the accident must also be interviewed, if available. The investigator will emphasize to the witness that the sole purpose of the investigation is accident prevention.
How to Fill Out DA Form 285-W?
Procedural guidelines and additional information can be found in the DA Pamphlet 385-40. DA Form 285-W instructions are as follows:
The name of the witness is entered in Block 1. Their general occupation and grade are provided in Blocks 2 and 3. Blocks 4, 5, and 6 require the witness's date of birth, address, and telephone number.
Block 7 is for the date the interview took place. Block 8 is for providing a brief summary of the witness's experience, expertise, and military background. The location of the witness at the time of the accident is specified in Block 9.
Block 10 is for the grade and the last name of the person in charge of the interview. The name of only the lead interviewer is required if the witness was interviewed by different interviewers on separate occasions.
Blocks 11a through 11c cover the promise of confidentiality. Block 11a is filled out if the promise of confidentiality was offered to the witness. If the witness requested confidentiality, the interviewer must complete Block 11b. Block 11c is for the signature of the interviewer and the date of the interview.
Block 12 is for the summary of the interview. The date of the accident is specified in Block 13. Block 14 contains the information regarding the promise of confidentiality that the interviewer has to read out to the witness.
Block 15 reflects the availability of the promise of confidentiality for "limited use" reports of investigation.
---
Publications related to DA Form 285-W:
Other Revision
Download DA Form 285-w Technical Report of U.S. Army Ground Accident - Summary of Witness Interview