DA Form 285 Technical Report of U.S. Army Ground Accident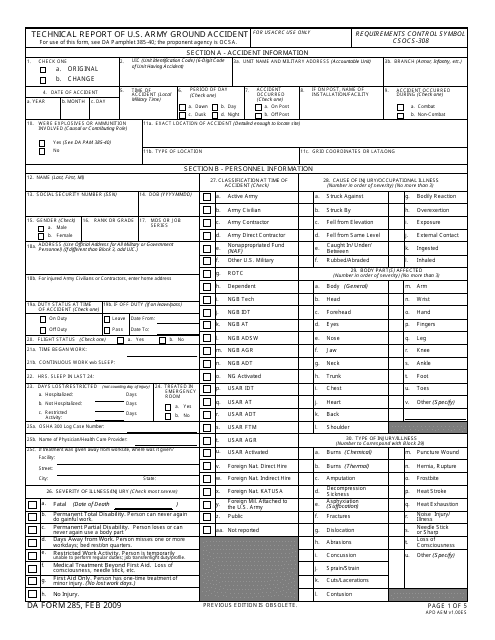 How to Fill Out DA Form 285?
Procedural guidelines and additional information can be found in the DA PAM 385-40. DD Form 285 instructions are as follows:
Section A ("Accident Information") contains 11 Blocks in total.

The type of report is identified in Block 1;
Blocks 2 through 9 require the identification code of the unit associated with the accident, the unit name, military address, unit branch, the date, and the time of the accident;
Block 10 should be completed if any explosives or ammunition were involved in the accident;
Blocks 11a through 11c require the exact location of the accident along with the type and the coordinates of the location.

Section B ("Personnel Information") is for providing information about injured staff.

Blocks 12 through 18 should contain personal data about the injured individual, specifically their name, social security number, date of birth, gender, rank or grade, military occupational specialty or job series, and address (the form requires an official address for military and government personnel and a home address for injured civilians);
Block 19a requires the duty status of the individual at the time of the accident;
Flight status is indicated in Block 20;
Block 21 and 22 describe the amount of sleep the individual has had on the day of the accident;
Blocks 22 through 30 are filled out if the individual has sustained injuries as a result of the accident;
The type of action the individual was performing at the time of the accident is specified in Block 31;
A detailed description of the action is given in Block 32;
Block 33 requires specifying whether the action was performed during a field exercise or operation;
Block 34 is completed if the action was a part of an activity or tactical training;
Block 35 is for pro identifying the type of training facility used;
Blocks 36 through 39 describe the individual's training and licensing;
Block 40, 41, and 42 are completed if alcohol, drugs, or vision enhancement devices contributed to the accident;
Blocks 43 through 51 summarize all other details regarding performance standards, the individual's driving mileage, license checks, and employment and deployment information.

Section C ("Property/Materiel Involved") is used for listing any property or equipment involved - whether damaged or not.
Section D ("Environmental Conditions Involved") is for specifying the environmental conditions that have caused or contributed to the accident.
Section E ("Accident Description/Narrative") should feature the facts, conditions, and circumstances as established by the investigation board during the investigation
Section F ("Corrective Action and Command Review") is for the findings and recommendations of the investigation board.
Section G ("Safety Office Use Only") is filled out by the authorized personnel at Army Headquarters.
Section H ("Explosives/Ammunition") is for providing explosive or ammunition information.
---
Publications related to DA Form 285:
Download DA Form 285 Technical Report of U.S. Army Ground Accident