Form ST-3 Sales and Use Tax Return - Georgia (United States)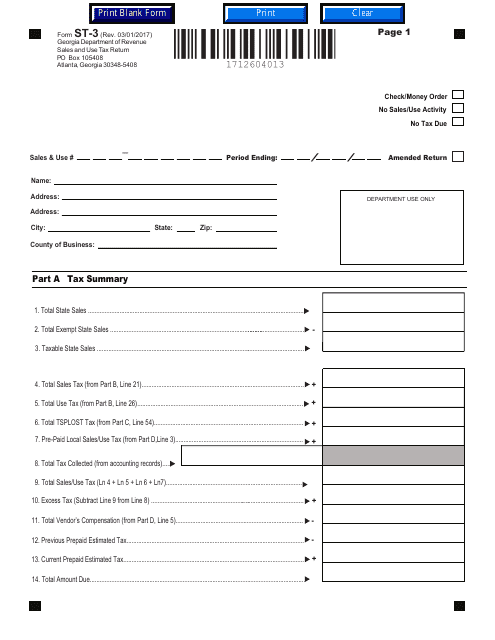 Fill PDF Online
Fill out online for free
without registration or credit card
What Is Form ST-3?
Form ST-3, Sales and Use Tax Return , is an official document used by Georgia-registered organizations to report the sales and use tax they owe. This statement helps the government to learn more about the business activity of your company, its total sales, and their accurate distribution.
Alternate Name:
This form was issued by the Georgia Department of Revenue . The latest version of the document was released on March 1, 2017 , with all previous editions obsolete. You may download ST-3 Form via the link below.
Georgia Form ST-3 instructions
Follow these steps to prepare Form ST-3:
State the sales and use tax number assigned to your business. Indicate the time period you are filing the return for. Check the box if you are submitting an amended form, owe no tax, or had no activity related to sales and use. Identify the taxpayer by name and address.
Examine the table to see how the sales tax is distributed. There are different rates for different jurisdictions - it depends on the county the service or product was first used in Georgia. Add all the amounts to figure out the total sales tax.
Indicate the amount of Transportation Special Purpose Local Option Sales Tax you owe. The sales tax and the use tax must be recorded separately and then jointly.
Compute the vendor's compensation for the sales and use related and not related to the motor fuel sales and use.
Recognize and enter the amount of bad debt you have written off and recovered.
Provide a tax summary to list state sales, exempt state sales, and state sales subject to taxation. Enter the total sales tax and use tax from all applicable jurisdictions. Deduct tax you have paid before and the vendor's compensation to find out the total amount of tax you owe.
Confirm all the details in the form are true and accurate. Name the person who prepared the return, add their title, contact information, and sign the document.
List all the taxable sales by jurisdiction and write down their total amount.
Download Form ST-3 Sales and Use Tax Return - Georgia (United States)