DD Form 2659 Voucher Control Log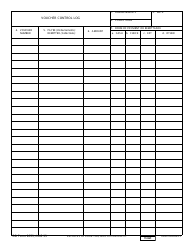 DD Form 2659 or the "Voucher Control Log" is a Department of Defense-issued form used by and within the United States Army.
The form - often mistakenly referred to as the DA form 2659 - was last revised on August 1, 1993. Download an up-to-date fillable PDF version of the DD 2659 down below or find it on the Department of Defense documentation website.
1. DISBURSEMENTS
3. DATE
VOUCHER CONTROL LOG
2. COLLECTIONS
7. FORM OF PAYMENT OR REMITTANCE
4. VOUCHER
5. PAYEE (Disbursements)
6. AMOUNT
NUMBER
REMITTER (Collections)
a. CASH
b. CHECK
c. EFT
d. OTHER
DD Form 2659, AUG 93
REPLACES AF FORM 1304, WHICH IS OBSOLETE.
Adobe Professional 8.0
Reset