DA Form 370 Request for Alteration and Repairs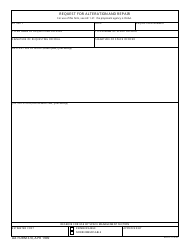 DA Form 370 or the "Request For Alteration And Repairs" is a Department of the Army-issued form used by and within the United States Military.
The form - often incorrectly referred to as the DD form 370 - was last revised on April 1, 1949. Download an up-to-date fillable DA Form 370 down below in PDF-format or look it up on the Army Publishing Directorate website.
REQUEST FOR ALTERATION AND REPAIR
For use of this form, see AR 1-21: the proponent agency is OAAA.
ACTIVITY
DATE
REQUISITION NUMBER
TYPED NAME OF REQUESTING OFFICIAL
TYPED NAME OF SPACE OFFICER
SIGNATURE OF REQUESTING OFFICIAL
SIGNATURE OF SPACE OFFICER
DESCRIPTION OF WORK (Attach plan, if necessary)
JUSTIFICATION (Use Reverse side, if necessary)
RESERVE FOR USE BY SPACE MANAGEMENT SECTION
ESTIMATED COST
APPROVED BY
REIMBURSABLE
NONREIMBURSABLE
APD LC v1.01ES
DA FORM 370, APR 1949