DA Form 4139-r Application for Loan (Civilian Welfare Fund)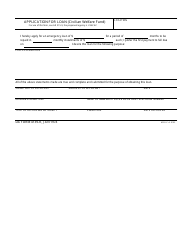 DA Form 4139-r or the "Application For Loan (civilian Welfare Fund)" is a Department of the Army-issued form used by and within the United States Military.
The form - often incorrectly referred to as the DD form 4139-r - was last revised on January 1, 1974. Download an up-to-date fillable DA Form 4139-r down below in PDF-format or look it up on the Army Publishing Directorate website.
LOCATION
APPLICATION FOR LOAN (Civilian Welfare Fund)
For use of this form, see AR 215-5; the proponent agency is USAFAC
I hereby apply for an emergency loan of $
for a period of
months to be
repaid in
monthly installments of $
each; I prefer the first payment to fall due
. I desire this loan for the following purpose:
on
FULL EXPLANATION
All of the above statements made are true and complete and submitted for the purpose of obtaining this loan.
SIGNATURE OF APPLICANT
ADDRESS OF APPLICANT
DATE
ORGANIZATIONAL UNIT
NAME OF IMMEDIATE SUPERVISOR AND TELEPHONE NUMBER
TITLE OF APPROVING AUTHORITY
SIGNATURE
DATE APPROVED
DA FORM 4139-R, JAN 1974
APD LC v1.01ES
Download DA Form 4139-r Application for Loan (Civilian Welfare Fund)