DA Form 4664-r Tempest Inspection Report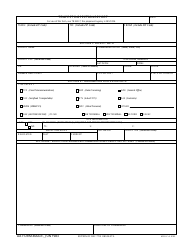 DA Form 4664-r - also known as the "Tempest Inspection Report" - is a United States Military form issued by the Department of the Army.
The form - often mistakenly referred to as the DD form 4664-r - was last revised on June 1, 1983. Download an up-to-date fillable PDF version of the DA 4664-r down below or look it up on the Army Publishing Directorate website.
TEMPEST INSPECTION REPORT
DATE
For use of this form, see TB 380-7; the proponent agency is INSCOM.
THRU: (Include ZIP Code)
TO: (Include ZIP Code)
FROM: (Include ZIP Code)
SECTION I - FACILITY DATA
FACILITY NAME
COMMANDER OR OIC (Name, Grade, Title)
FACILITY POC (Name and Grade)
TELEPHONE NUMBERS
AUTOVON:
COML:
UIC
BUILDING (Name or Number)
ROOM
FLOOR
NUMBER AND STREET
CITY OR POST
STATE OR COUNTRY
SECTION II - INFORMATION PROCESSOR DATA
TYPE FACILITY
ADP (Data Processing)
TCF (Fixed Telecommunications)
GOE (General Office)
TAC (Semifixed Transportable)
ETV (Educ/CCTV)
FAX (Facsimile)
WWM (WWMCCS)
WPC (Word Processor)
OTHER
ASV (AUTOSEVOCOM): JCS NO
NB TERMINAL
WB TERMINAL
SECORD
SEVAC
TYPE INFORMATION
SCI:
YES
CLASSIFIED (PERCENTAGES) (REQUIRED FOR NON-SCI INFORMATION ONLY)
NO
TS:
S:
C:
INSPECTION DATES
INSCOM FIN
INSPECTOR (Name and Grade)
RELOCATED
PAST
CURRENT
(Continue on reverse)
SECTION III - INSPECTION FINDINGS/RECOMMENDATIONS/CORRECTIVE ACTIONS
COMMANDER (Name and Grade)
SIGNATURE OF COMMANDER
DA FORM 4664-R, JUN 1983
EDITION OF DEC 77 IS OBSOLETE.
APD LC v1.01ES