DA Form 1300-3 Summary Accounting Transfer Record of Supply Item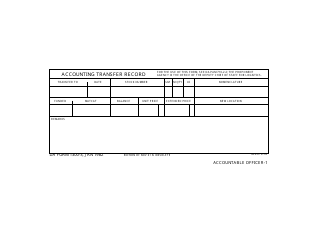 DA Form 1300-3 - also known as the "Summary Accounting Transfer Record Of Supply Item" - is a Military form issued and used by the United States Department of the Army.
The form - often mistakenly referred to as the DD form 1300-3 - was last revised on January 1, 1982. Download an up-to-date fillable PDF version of the DA 1300-3 below or request a copy through the chain of command.
FOR THE USE OF THIS FORM, SEE DA PAM 710-2-2; THE PROPONENT
ACCOUNTING TRANSFER RECORD
AGENCY IS THE OFFICE OF THE DEPUTY CHIEF OF STAFF FOR LOGISTICS.
TRANSFER TO
DATE
STOCK NUMBER
UM
M QTY
UI
NOMENCLATURE
FUNDED
MATCAT
BALANCE
UNIT PRICE
EXTENDED PRICE
NEW LOCATION
REMARKS
DA FORM 1300-3, JAN 1982
APD LC v1.00
EDITION OF NOV 61 IS OBSOLETE
ACCOUNTABLE OFFICER-1
Download DA Form 1300-3 Summary Accounting Transfer Record of Supply Item