DA Form 4702-R Monthly Bulk Petroleum Accounting Summary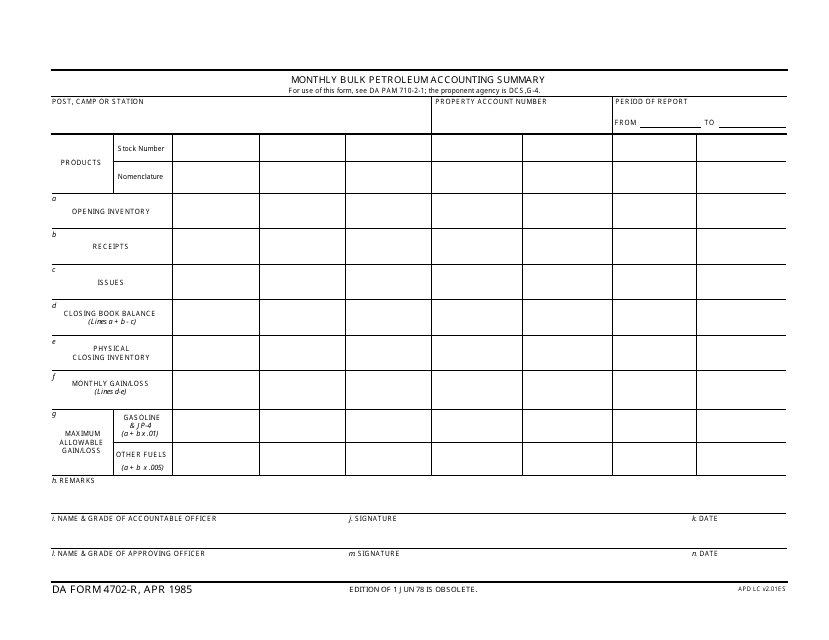 What Is DA Form 4702-R?
DA Form 4702-R, Monthly Bulk Petroleum Accounting Summary (LRA), is a form used as a monthly report of fuel issues and receipts. This form is filed at the end of each month with information from DA Form 3853-1, Innage Gage Sheet (Using Innage Tape and Bob), or the locally authorized form or used for daily records.
The U.S. Department of the Army (DA) released the latest version of the form - sometimes incorrectly referred to as DD Form 4702 - on April 1, 1985. An up-to-date DA Form 4702-R fillable version is available for digital filing and download below or can be found through the Army Publishing Directorate website.
This form is closely related to DA Form 4702-R-E, Monthly Bulk Petroleum Accounting Summary (EGA)Not available online., which requires the same data and is used for the same purpose, but is filled digitally.
How to Fill Out DA Form 4702-R?
Procedural guidelines and additional information can be found in the DA PAM 710-2-1. DA Form 4702-R instructions are as follows:
DA Form 4702-R is completed on the last day of each month. If the last day of the month is a non-duty day with no issues or receipts made, the monthly inventory may be conducted at the end of the last workday of the month.
The first three boxes of the form should contain the name of the post, camp, or station, the property account number, and the reporting period.
The products listed in the form should be identified with the stock number and the nomenclature number.
The data on the receipts and issues from the daily reports should be summarized for each product and transferred to the monthly bulk petroleum accounting summary. The closing book balance is the sum of the opening inventory, receipts, and issues. The monthly gain or loss is calculated by subtracting the physical closing inventory from the closing book balance.
The maximum allowable gain or loss is calculated separately for gasoline and other fuels. All losses shown on DA Form 4702-R should be copied into the property book and DA Form 2064, Document Register for Supply Actions.
Any additional remarks should be entered in the line below the chart, if necessary.
The accountable officer should provide their name and grade, sign and date the form. The approving officer also enters their name and grade and provides their signature and date of filing.
Download DA Form 4702-R Monthly Bulk Petroleum Accounting Summary