DA Form 6 Duty Roster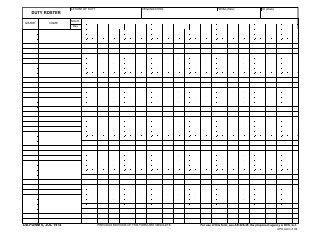 What Is DA Form 6?
DA Form 6, Duty Roster is a form used to record the duties performed by individuals across all Army organizations. Its main purpose is to maintain an equitable determination of duty assignments. Different duties require filling out separate copies of the form.
The latest version of the form – often incorrectly called the DD Form 6 – was released by the Department of the Army in July 1974. An up-to-date DA Form 6 fillable version is available for digital filing and download below or can be found through the Army Publishing Directorate website.
The form is used to properly distribute tasks and work details between the involved personnel. The rosters should be posted only for days when a detail is selected. The DA 6 can also be used for listing unit designations in the place for individual names.
NATURE OF DUTY
ORGANIZATION
FROM (Date)
TO (Date)
DUTY ROSTER
Month
GRADE
NAME
Day
DA FORM 6, JUL 1974
PREVIOUS EDITIONS OF THIS FORM ARE OBSOLETE.
For use of this form, see AR 220-45; the proponent agency is DCS, G-1.
APD ALD v1.02
How to Fill Out DA Form 6?
Additional information and DA Form 6 instructions can be found in the Army Regulation 220–45, Duty Rosters, released in November 2017. Filing steps are as follows:
The top line of the form requires the nature of performed duty, the name of the organization and the dates indicating the period of time for performing the duty.
The next several boxes require the name and grade of each person involved. All personnel must be listed in alphabetical order according to their name and sorted into groups by grade, arranged from highest to lowest.
The boxes labeled 'Month' and 'Day' should specify the name of the month in question and list all of the days of that month.
The form requires assigning codes to service members unavailable for duty. Personnel who is not available for reasons of leave, special duty, temporary duty, pass, illness in the line of duty, or other authorized reasons other than misconduct should be indicated by letter A.
Service members eligible for detail but not chosen because of previous detail or other duty should be assigned the letter D. Personnel unavailable as a result of being absent without leave, under arrest, in confinement, sick (not in the line of duty) or otherwise unavailable because of their own misconduct are to be marked with the letter U.
Consolidated weekday-weekend-holiday DA 6 Forms should be managed whenever it is applicable. Entries for holidays and weeks, as well as entries for weekdays, should be posted on the same duty roster.