DA Form 3433 Application for Nonapproriated Fund Employment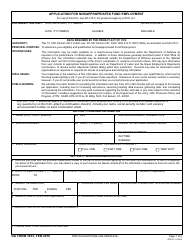 What Is a DA Form 3433?
DA Form 3433 also known as the Application for Nonappropriated Fund Employment is a document used by military servicemen and women applying for NAF positions. This form can be attached to a resume or be used instead of one. It serves the same purpose as a resume: the form is used to evaluate how much the skills and experience of an applicant fit a certain position.
The application - last revised in February 2016 - is often mistakenly referred to as the DD form 3433. An up-to-date DA Form 3433 fillable version is available for download below.
Used by the Department of Army, this form is standard for applying for NAF positions. The DA 3433 is a form closely related to the DA 3433-1, and if used to apply, they should be submitted together for all positions. In some cases, you will also have to attach Form DA 3433-2.
APPLICATION FOR NONAPPROPRIATED FUND EMPLOYMENT
For use of this form, see AR 215-3; the proponent agency is DCS, G-1.
FOR AGENCY USE ONLY
DATE RECEIVED (YYYYMMDD)
STATUS
RATER'S INITIALS
DATE (YYYYMMDD)
ELIGIBLE
INELIGIBLE
DATA REQUIRED BY THE PRIVACY ACT OF 1974
AUTHORITY:
Title 10, USC Section 3013; Public Law 101-647 Section 231; DoDI 1402.5; E.O. 9397 (SSN), as amended; and AR 215-3.
PRINCIPAL PURPOSE:
To determine your eligibility and qualification for Nonappropriated Fund Employment.
ROUTINE USES:
This information may be made available on a need-to-know basis to personnel within the Department of Defense as
required in the performance of official duties. In addition to those disclosures generally permitted under 5 USC 552a (b)
(Privacy Act), the information collected may be disclosed outside the Department of Defense pursuant to the "Blanket
Routine Uses" set forth at the beginning of the Army's compilation of systems of records notices. We may give information
from your records to appropriate federal agencies such as Department of Labor and the Equal Employment Opportunity
Commission, to resolve and/or adjudicate matters falling within their jurisdiction. Records may also be disclosed to labor
organizations in response to requests for names of employees and identifying information.
DISCLOSURE:
Your responses to the collection of this information are voluntary, but we cannot determine your qualifications, which are the
first step toward getting a job, if you do not answer these questions. Disclosure of your social security number is voluntary;
however, if you do not provide your social security number, we cannot process your application.
PUBLIC BURDEN:
We estimate the public burden for providing this information will vary from 20 to 240 minutes with an average of 40 minutes
per application, including time for reviewing instructions, searching existing data sources, gathering data, and completing
and reviewing the information. You may send comments regarding the burden estimate or any other aspect of the collection
of information, including suggestions for reducing this burden, to the Department of the Army, NAF Personnel Policy and
th
Program, ATTN: DAPE-CPN, 6010 6
St. Bldg. 1465, Fort Belvoir, VA 22060.
If additional space is required to document your employment history or to provide a complete response to
INSTRUCTION:
any question(s) on this form, attach a continuation sheet(s). Include your name, social security number, and vacancy
announcement number on each continuation sheet.
SECTION I - PERSONAL INFORMATION
2a. SSN
3. JOB ANNOUNCEMENT NUMBER/TITLE
1. NAME (LAST, FIRST, MIDDLE)
4. MAILING ADDRESS
5. LOWEST ACCEPTABLE SALARY/GRADE
2b. DOB (YYYYMMDD)
6. TELEPHONE NUMBERS
2c. PLACE OF BIRTH
DAYTIME:
EVENING:
7. EMAIL ADDRESS:
8. WORK SCHEDULES YOU ARE WILL TO ACCEPT:
TEMP APPT
FLEX-TIME
FULL-TIME
PART-TIME
SECTION II - WORK EXPERIENCE/HISTORY
9. Describe your paid and non paid work experience related to this job for which you are applying. Do not attach job descriptions. In lieu of completing
the below of this application form, you may attach a copy of your resume but please include all of the information requested on this form and in the
job announcement.
b. TITLE OF POSITION
a. DATE OF EMPLOYMENT (YYYYMMDD)
c. GRADE (If applicable)
FROM
TO
d. SALARY INFORMATION
e. AVERAGE HOURS PER WEEK f. SUPERVISOR'S NAME AND TELEPHONE NUMBER
STARTING
ENDING
PER
PER
$
$
g. NAME OF EMPLOYER (Firm/Organization)
h. ADDRESS (Please include the zip code)
i. DESCRIPTION OF DUTIES AND ACCOMPLISHMENTS
j. PLEASE GIVE YOUR REASON FOR LEAVING
DA FORM 3433, FEB 2016
PREVIOUS EDITIONS ARE OBSOLETE.
Page 1 of 5
APD LC v1.03ES
Download DA Form 3433 Application for Nonapproriated Fund Employment
DA Form 3433 Instructions
Fill in your identifying information: your full name, address, social security number and date of birth. Enter your contact information: an e-mail, phone number, and a work phone if you are currently employed. Your personal phone will be the first way to contact you.
List the position you are applying for. Choose if you claim spouse employment or ISM reference in Block 9.
State your rank if you are active duty military.
List your skills in Box 13: include all skills and abilities you think will be useful to qualify for the position you are applying to. Describe any previous job experience in Box 14, Working experience.
Enter the names of any completed training classes you believe will help you qualify in Box 15, Training. Do the same with any received licensing or certification in Box 16. Fill in these boxes even if you plan on attaching an actual resume with this form.
Include any other relevant information in Box 17. Sign and date the form before sending.
How to Get DA Form 3433?
A DA 3433 fillable form is available for download on the United States Army Publishing Directorate website or down below. You can file it digitally or print, sign and attach a physical copy of the form to your resume.
How to complete SKILLS in DA Form 3433?
The 'Skills' block will require you to list all of the knowledge, skills, and abilities you believe can help you qualify for the position you are applying for. Stick to what's important - do not write everything you can, just like you would in an actual resume.
The skills are worth filing even if you are planning to attach a resume to your application - it's better to not leave any fields on the form blank.
DA 3433 Related Forms
The Non-appropriated Fund (NAF) employment packet consists of three forms: DA Form 3433, DA 3433-1 and DA 3433-2.
DA Form 3433-1, Supplemental Employment Application Form is completed by the applicant selected for NAF employment.
DA Form 3433-2, Supplemental-A Employment Application Form for Child-Youth Services Positions is filed by all applicants selected for positions that involve working with children or youth.