DA Form 5123-1 In-processing Personnel Record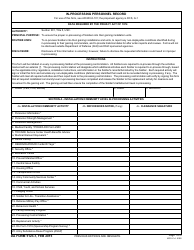 DA Form 5123-1 or the "In-processing Personnel Record" is a Department of the Army-issued form used by and within the United States Military.
The form - often incorrectly referred to as the DD form 5123-1 - was last revised on February 1, 2015. Download an up-to-date fillable DA Form 5123-1 down below in PDF-format or look it up on the Army Publishing Directorate website.
IN-PROCESSING PERSONNEL RECORD
For use of this form, see AR 600-8-101; the proponent agency is DCS, G-1
DATA REQUIRED BY THE PRIVACY ACT OF 1974
Section 301, Title 5, USC.
AUTHORITY:
To ensure the proper in-processing of Soldiers into their gaining installation units.
PRINCIPAL PURPOSE:
ROUTINE USES:
To in-process Soldiers into their gaining installations and units, to report any non-deployable conditions identified during
in-processing to their gaining commanders, and to provide historical dates for after action reports and reviews. Forms will not
be disclosed outside Department of Defense (DoD) and DoD sponsored agencies.
Disclosure of this information is voluntary; however, failure to disclose the requested information could result in improper
DISCLOSURE:
in-processing.
INSTRUCTIONS
This form will be initiated on every in-processing Soldier at the processing control station. All Soldiers are required to in-process through the activities
marked with an asterisk (*). The processing control station will designate which additional activities each Soldier is required to in-process through, based
on the applicable Army regulations, installation instructions, and information in the Soldier's records/furnished by the Soldier. Each required activity will
sign or initial this form and annotate any non-deployable conditions (deficiencies) identified that could not be remedied during in-processing, if any. The
Soldier will clear all required activities and then report back to the processing control station. The processing control station will verify by signing this form
that all required installation/community level in-processing has been completed and release the Soldier to the replacement activity for clearance and
movement to the gaining unit. The gaining unit will then ensure the completion of the Soldier's battalion/unit level in-processing.
2. RANK
3. MOS/AOC
1. NAME (Last, First, Middle)
SECTION A - INSTALLATION/COMMUNITY LEVEL IN-PROCESSING ACTIVITIES
4a. INSTALLATION/COMMUNITY ACTIVITY
4b. DEFICIENCIES NOTED (If any)
4c. CLEARANCE SIGNATURE
1. Personnel Information *
2. Personnel Strength Management *
3. Personnel Management *
4. Medical Facility */PDHRA DD Form 2900
5. TRICARE Service Center Health Benefits Advisor
or Medical Element Equivalent *
6. Dental Facility *
7. DEERS/RAPIDS/ID Cards/ID Tags *
8. Security Office *
9. Education Center *
10. Provost Marshal Office *
11. Central Issue Facility
12. Housing Office
13. Transportation Office
14. Army Community Services Center *
15. Commercial Activities
16. Child, Youth, and School Services
17. Lodging Office
18. Soldier for Life - Transition Assistance *
19. Defense Military Pay Office *
20. Behavioral Health *
21. Family Advocacy Program *
22. Processing Control Station *
23. Replacement Activity *
24. DA Form 7274 (Sponsorship Program Survey) *
25. Army Substance Abuse Program (ASAP)
Page 1 of 2
DA FORM 5123-1, FEB 2015
PREVIOUS EDITIONS ARE OBSOLETE.
APD LC v1.01ES