DD Form 1138-1 Inventory Report of Principal or Secondary Items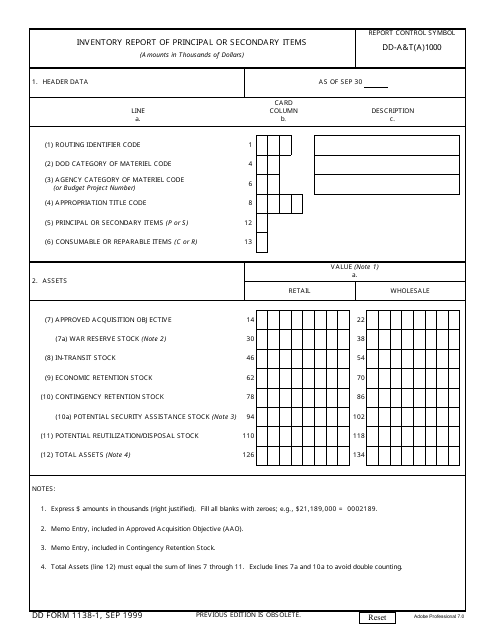 Fill PDF Online
Fill out online for free
without registration or credit card
What Is DD Form 1138-1?
This is a form that was released by the U.S. Department of Defense (DoD) on September 1, 1999. The form, often mistakenly referred to as the DA Form 1138-1 , is a military form used by and within the U.S. Army. As of today, no separate instructions for the form are provided by the DoD.
FAQ
Q: What is DD Form 1138-1?
A: DD Form 1138-1 is an Inventory Report of Principal or Secondary Items.
Q: What does the form 1138-1 record?
A: The form 1138-1 records the principal or secondary items in an inventory.
Q: What is the purpose of form 1138-1?
A: The purpose of form 1138-1 is to provide a report of inventory items.
Q: Who uses form 1138-1?
A: Form 1138-1 is used by military personnel and agencies.
Form Details:
A 1-page document available for download in PDF;
The latest version available from the Executive Services Directorate;
Editable, printable, and free to use;
Fill out the form in our online filing application.
Download an up-to-date fillable DD Form 1138-1 down below in PDF format or browse hundreds of other DoD Forms compiled in our online library.
Download DD Form 1138-1 Inventory Report of Principal or Secondary Items