DD Form 1348-8 DoD Milspets: DFSP Inventory Accounting Document and End-Of-Month Report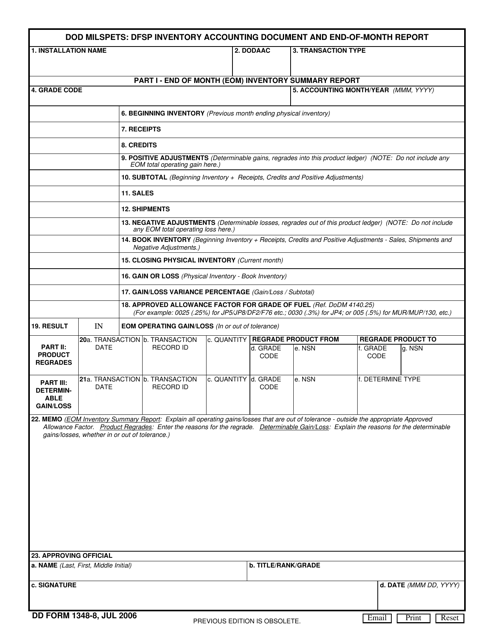 Fill PDF Online
Fill out online for free
without registration or credit card
What Is DD Form 1348-8?
This is a form that was released by the U.S. Department of Defense (DoD) on July 1, 2006. The form, often mistakenly referred to as the DA Form 1348-8, is a military form used by and within the U.S. Army. As of today, no separate instructions for the form are provided by the DoD.
Form Details:
A 2-page document available for download in PDF;
The latest version available from the Executive Services Directorate;
Additional instructions and information can be found on page 2 of the document;
Editable, printable, and free to use;
Fill out the form in our online filing application.
Download an up-to-date fillable DD Form 1348-8 down below in PDF format or browse hundreds of other DoD Forms compiled in our online library.
DD Form 1348-8 Instructions
The DD 1348-8 is divided into several parts. The first line of the document includes three boxes that require information about the DESC Stock Point Name with its type (e.g. COCO, Military, etc.), the DoDAAC, and the Transaction Type that can be selected from a drop-down menu.
Part I is used for recording the End-of-Month Inventory Summary Report. It includes Bocks 4 through 19 that should be completed as follows:

Blocks 4 and 5 are for the three-digit code of the reported product and accounting month and year;
Blocks 6 through 9 require providing the following data: the beginning physical inventory, the total quantity of fuel receipts, customer returns, and positive inventory adjustments;
In the electronic version of the form, a subtotal will be generated automatically in Block 10. If filing in paper, this needs to be calculated manually;
Blocks 11, 12, and 13 are intended for the total quantity of fuel sales, shipments, and negative inventory adjustments. The Book Inventory will automatically appear in Block 14 when e-filing;
The Closing Physical Inventory has to be entered in Block 15 and the approved gain or loss tolerance factor for this product grade in Block 18;
Blocks 16, 17, and 19 will all be completed automatically.

Part II of the form is designed for records of product regrade actions. It consists of Block 20 divided into several boxes that require details about the transaction date, ID, the total quantity of the product regrade, grade code, and National Stock Number (NSN) of the product regraded from, grade code, and NSN of the product regraded to.

Part III is for providing specific data regarding product determinable gain or loss transactions. This includes the following:

The transaction date & ID;
The total quantity of the determinable product gain or loss;
The grade code;
The NSN;
The Determine Type.

Any remarks should be entered in Block 22. Block 23 is reserved for the name, title, rank or grade of the Approving Official, along with their signature and date of signing.
---
DD 1348-8 Related Forms:
Download DD Form 1348-8 DoD Milspets: DFSP Inventory Accounting Document and End-Of-Month Report