DD Form 1348 DoD Single Line Item Requisition System Document (Manual)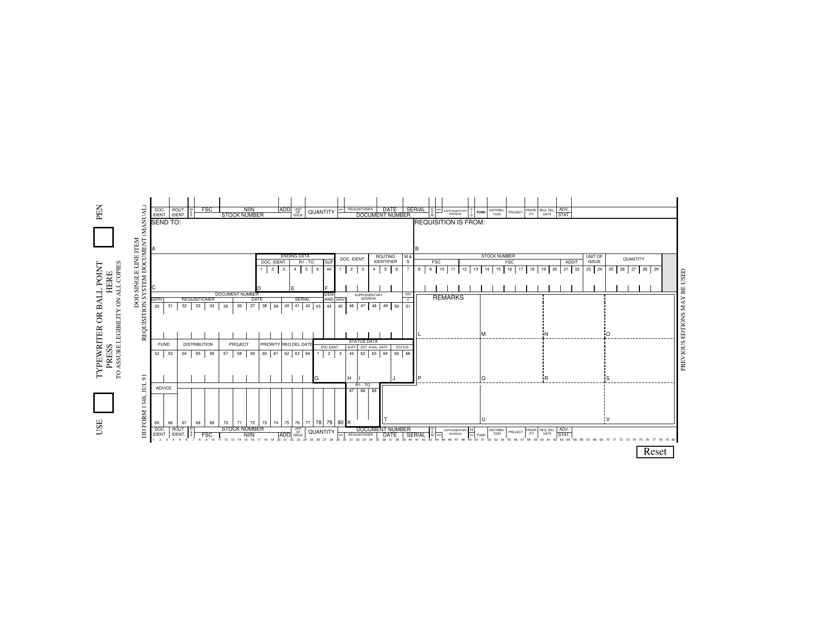 Fill PDF Online
Fill out online for free
without registration or credit card
What Is DD Form 1348?
This is a form that was released by the U.S. Department of Defense (DoD) on July 1, 1991. The form, often mistakenly referred to as the DA Form 1348, is a military form used by and within the U.S. Army. As of today, no separate instructions for the form are provided by the DoD.
Form Details:
A 1-page document available for download in PDF;
The latest version available from the Executive Services Directorate;
Editable, printable, and free to use;
Fill out the form in our online filing application.
Download an up-to-date fillable DD Form 1348 down below in PDF format or browse hundreds of other DoD Forms compiled in our online library.
DD Form 1348 Instructions
The DD 1348 form can be completed digitally, by typewriter, or with a ballpoint pen. The information in this form is mostly represented with codes.
The document is available in three types of sets: a two-part set, a four-part set, and a six-part set. Each set has its own purpose.
The two-part form is usually used for requisition follow-up, modification, or cancellation, as well as for tracer requests. This set is applied by the non-automated (manually supplied) ships;
The main purpose of the four-part form is for making requisitions from shore activities;
The final six-part form is typically applied when it is necessary to make a requisition from other non-automated ships. The same set can also be used for requisitioning from automated ships upon request.
DD 1348 Related Forms
Download DD Form 1348 DoD Single Line Item Requisition System Document (Manual)