DD Form 1348-2 Issue Release/Receipt Document With Address Label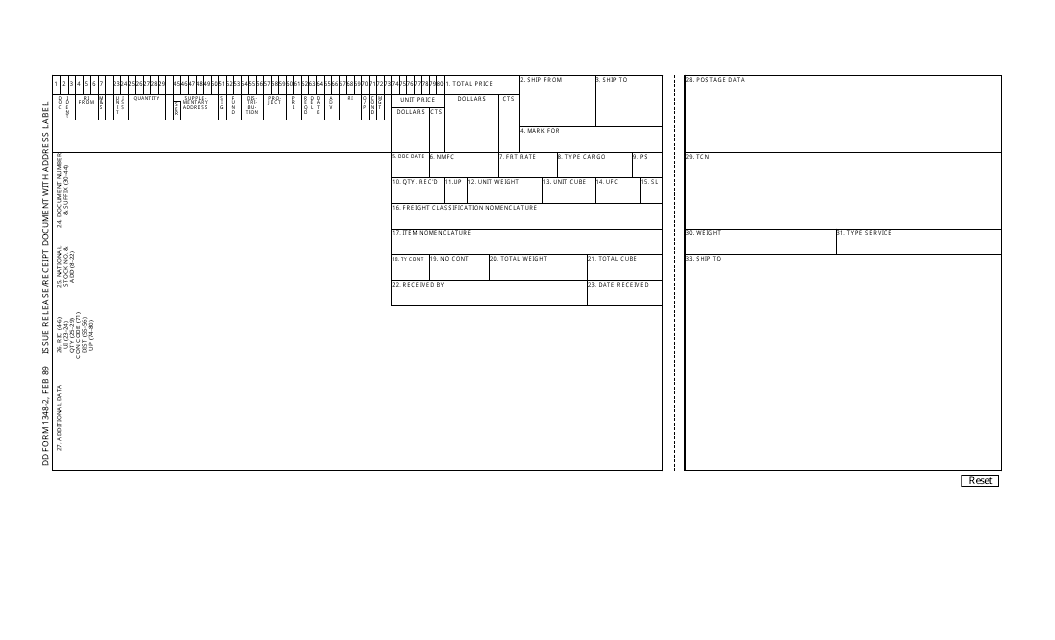 Fill PDF Online
Fill out online for free
without registration or credit card
What Is DD Form 1348-2?
This is a form that was released by the U.S. Department of Defense (DoD) on February 1, 1989. The form, often mistakenly referred to as the DA Form 1348-2 , is a military form used by and within the U.S. Army. As of today, no separate instructions for the form are provided by the DoD.
Form Details:
A 1-page document available for download in PDF;
The latest version available from the Executive Services Directorate;
Editable, printable, and free to use;
Fill out the form in our online filing application.
Download an up-to-date fillable DD Form 1348-2 down below in PDF format or browse hundreds of other DoD Forms compiled in our online library.
DD Form 1348-2 Instructions
The document is filled out when arranging shipments to the Department of Defense customers, including sales to foreign military agencies. It can be prepared either digitally, including all necessary barcodes, or manually. The Branch of Service or Agency may authorize the use of carbonless paper for a preprinted document. The paper may be of any color, but it must provide a minimum contrast required by ISO/IEC.
The address label with pre-printed postage data is allowed only for shipments done by the U.S. Postal Service. It should contain the following information:
Postage data - the bottom line of the block usually contains the phrase "Official Business".
TCN - includes the corresponding transportation control number.
Weight - intended for the weight of the shipped item.
Type Service - requires entering the type of delivery service, like express mail, Military ordinary mail, first-class priority, etc.
From - for indicating the mailing address of the shipper, including zip code.
Ship-to - requires the mailing address of the activity that will receive the shipment and the mark-for data, usually indicated above the city, state and zip code. The same block may also include the port of embarkation (POE) data if necessary.
---
DD 1348-2 Related Forms:
Download DD Form 1348-2 Issue Release/Receipt Document With Address Label