Sample DD Form 1348-1a Issue Release / Receipt Document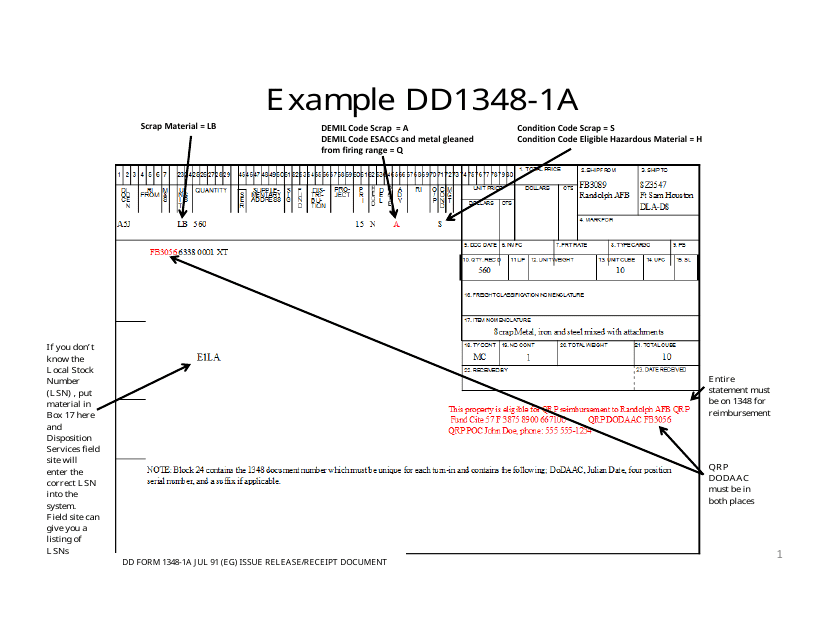 Fill PDF Online
Fill out online for free
without registration or credit card
What Is DD Form 1348-1A?
DD Form 1348-1A, Issue Release/Receipt Document , is a legal document completed when selecting, packing, shipping, and receiving various materials no longer needed by the military. Use this form as a receipt of a transaction and as a means to automate the capture of data using automatic identification technology devices.
Alternate Name:
The original DD Form 1348-1A was released by the U.S. Department of Defense (DoD). The latest version of the form was issued on July 1, 1991 , with all previous editions obsolete. You can download a sample DD Form 1348-1A through the link below.
DD Form 1348-1A Instructions
You may prepare Form DD 1348-1A manually or electronically to write down data elements for the various types of transactions. It serves as an important record for possible audit and as a receipt for the turned-in property. Fill it out when interacting with the Defense Logistics Agency Disposition Services to dispose of excess items - for instance, when donating laptops to educational institutions via the DoD Computers for Learning program. At least one copy of this form must accompany the property on the outside of the shipping container. One copy is to be retained by the shipper.
Provide the following information in DD Form 1348-1A:
State the original owning Department of Defense Activity Address Code (DoDAAC) to identify the DoD unit, organization, or activity the material was shipped from.
Name the disposition services location the property is turned into. Record the exact quantity of the items that correspond to the unit of issue.
Indicate the Disposal Turn-In Document (DTID) - a unique 14-character value that consists of the DoDAAC, the Julian date (yydd), and a four-digit serial number.
Enter the National Stock Number (NSN) or a Local Stock Number (NSN). Write down the unit of issue - it depends on the type of property you turn in. State the disposal authority code - M, N, or R.
Record the DEMIL (Demilitarization) code assigned to the property to identify the items before their release from the DoD control.
Write down the Supply Condition Code that determines the general condition or serviceability of the material.
Specify the original acquisition value of the property. Indicate the corresponding item name assigned to the NSN.
State the name, telephone number, and email address of the individual to be contacted about the property.
---
Not what you were looking for? Check out these related DD Forms:
Download Sample DD Form 1348-1a Issue Release / Receipt Document