DD Form 1149 Requisition and Invoice/Shipping Document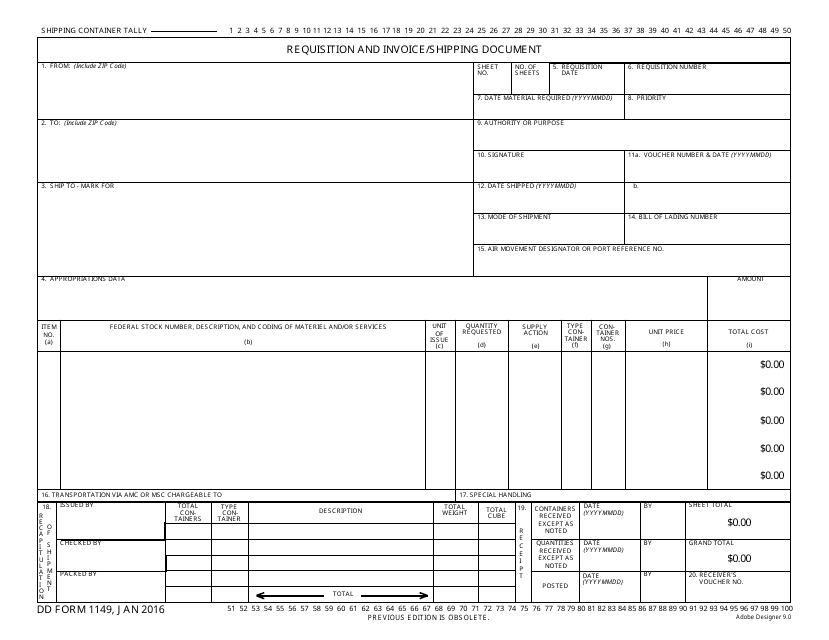 What Is DD Form 1149?
DD Form 1149, Requisition and Invoice/Shipping Document is a form issued by the Department of Defense (DoD) for records of invoice, requisition, and shipping of materials between both receiving and shipping sides under DoD jurisdiction.
This form - sometimes incorrectly referred to as the DA Form 1149 - was last revised on January 1, 2016. A fillable up-to-date DD Form 1149 can be digitally filed and downloaded below or can be obtained through the Executive Services Directorate website.
What Is DD Form 1149 Used For?
The invoice - along with DD Form 1149C, its continuation sheet - is used to track materials shipped by and to parties working under the Department of Defense. No shipments can be made and sent without a copy of DD 1149 signed and certified by the receiver.
DD Form 1149 Instructions
First, provide the shipping and the delivery addresses. Include a contact number and the name of the receiver. List all appropriations for the shipping: the requisition numbers, dates, priorities, authority, or purposes, if this is specified in shipping instructions. In other cases leave Item 4 blank.
Provide the date and method of shipment and relevant information on the chosen way. For air shipment state the air movement designator and for shipments by sea state the receiver's port of reference.
Fill in the list of transported materials. Each entry must include a brief description of the item, stock number, coding, unit of issue, quantity, and cost. If the provided list is not enough, attach a continuation sheet with a page number on top.
The section at the end of the form is reserved for special handling charges or instructions and recapitulation of shipment. The person filling the DD 1149 form should state the total amount of containers received, their types, and the description of each one of them together with a total weight.
The consignor should make a copy of the form to keep before the shipping will begin. When the package will be received, the consignee will certify and sign their copy of the form.
Can DD Form 1149 Be Used For Contracting Efforts?
This form is used for shipping and transferring Government Furnished Property (GFP) either from contractor to the government or vice versa - from the government to a contractor.
Download DD Form 1149 Requisition and Invoice/Shipping Document
Video Instructions for DD Form 1149