DA Form 3439 Nonappropriated Fund Instrumentality Employment Inquiry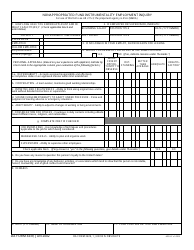 What Is DA Form 3439?
DA Form 3439, Nonappropriated Fund Instrumentality Employment Inquiry is a form used for verifying prior employment by the Civilian Personnel Advisory Center (CPAC) Non-appropriated Fund (NAF) HR Division prior to all offers of NAF employment except for emergency flexible appointments.
The latest release of the form - sometimes incorrectly referred to as the DD Form 3439 - was introduced by the Department of the Army (DA) in January 2002 with the previous edition being obsolete. An up-to-date DA Form 3439 fillable version is available for digital filing and download below or can be found through the Army Publishing Directorate website.
A Nonappropriated Fund employee - or a NAF employee - is a federal employee with a salary paid from funds self-generated by Army-run clubs, sports centers, golf courses, and other activities that use NAF staff.
The two types of NAF employment are "flexible" and "regular" jobs. Flexible employees may work from zero to forty hours per week and are not eligible to receive benefits. Regular employees work between twenty and forty hours per week and are entitled to some benefits.
NONAPPROPRIATED FUND INSTRUMENTALITY EMPLOYMENT INQUIRY
For use of this form see AR 215-3; the proponent agency is ASA (M&RA)
1. HOW LONG HAVE YOU KNOWN APPLICANT AND IN
2. IF EMPLOYER OR SUPERVISOR, INDICATE:
WHAT CAPACITY(IES)? (Check applicable block and
BEGINNING SALARY
POSITION TITLE
DATE (YYYYMMDD)
enter below)
CAPACITY
APPROXIMATE TIME KNOWN
LAST SALARY
POSITION TITLE
DATE (YYYYMMDD)
SUPERVISOR
EMPLOYER
3. IF NO LONGER IN YOUR EMPLOY, SHOW REASON FOR LEAVING
FELLOW EMPLOYEE
ACQUAINTANCE
4. WOULD YOU REEMPLOY APPLICANT IN THE SAME POSITION?
OTHER (Specify)
YES
NO (If no, indicate reasons under "Remarks.")
INSUF-
FICIENT
BETTER
PERSONAL APPRAISAL (Based on your experience with applicant, indicate by
OUT-
UNSATIS-
OPPOR-
THAN
ADEQUATE
STANDING
FACTORY
check mark in the appropriate column your evaluation of the following factors.)
TUNITY TO
AVERAGE
OBSERVE
5.a. DEPENDABILITY - Accepts assigned responsibility and effectively
accomplishes duties in an approved manner within time established.
b. COOPERATION - A team worker, maintains good working relationships.
c. INITIATIVE AND CREATIVENESS - Ability to think along original lines and to
work without detailed instructions or supervision.
d. SOUND JUDGEMENT/ABILITY TO ADAPT UNDER PRESSURE - Poise and
judgment in meeting adverse or emergency situations.
e. ADAPTABILITY - Ability to adjust to changes in working or living environments.
f. CONSIDERATION FOR OTHERS - Courteous in daily contacts including attitude
toward different races, religions, and nationalities.
g. COMPLETE ONLY IF CHECKED:
JOB KNOWLEDGE - Has knowledge of techniques and procedures
applicable to the job for which being considered.
MANAGERIAL SKILLS - Ability to plan and organize work.
SUPERVISION - Ability to supervise other employees.
Check applicable block. (If any answer is "yes" to the following questions, give details under "Remarks.")
YES
NO
6. Do you have any reason to question this person's loyalty to the United States?
7. Do you have any knowledge of any behavior, activities, or associations which tend to show that this person is not reliable,
honest, trustworthy, and of good conduct and character?
8. REMARKS
9. DATE (YYYYMMDD)
10. NAME OF ORGANIZATION
11. YOUR POSITION OR TITLE AND SIGNATURE
DA FORM 3439, JAN 2002
DA FORM 3439, 1 JUN 93 IS OBSOLETE
APD LC v1.02ES
Download DA Form 3439 Nonappropriated Fund Instrumentality Employment Inquiry
How to Fill out DA Form 3439?
Procedural guidelines and additional information can be found in the AR 215-3, Nonappropriated Funds Instrumentalities Personnel Policy, released in September 2015. DA Form 3439 instructions are as follows:
Any document or form originating during NAF employment - like requests for personnel actions, letters of reprimand, copies of the DD Form 1172-2 (Application for Identification Card/DEERS Enrollment) or internal placement forms - will be contained in a temporary electronic official personnel folder - or eOPF.
The CPAC NAF HR Division will establish a suitability file for the information and documents acquired during the background check. This information will be used to determine whether or not a candidate or current NAF employee is suitable for employment.

This file will contain the following forms:

A local military records check and a civilian law enforcement check;
A Criminal Investigation Command or Defense Central Investigation Index check;
An FBI fingerprint check and an Army Substance Abuse Program check;
Personnel security investigation portal verification;
An Optional Form 306, Declaration of Federal Employment;
A DA Form 3439, Nonappropriated Fund Instrumentality Employment Inquiry;
The decision for employment.

The CPAC NAF HRD Division will also establish security clearances files and retain those files for two years after the date of separation. No parts of the suitability file can be kept in an employee's eOPF.