Marketing Agreement Template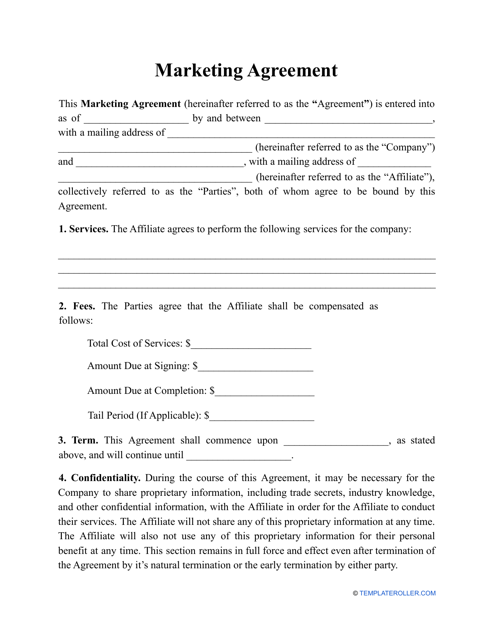 Fill PDF Online
Fill out online for free
without registration or credit card
What Is a Marketing Agreement?
A Marketing Agreement is a document signed by a business owner and a marketing agency or consultant to describe the marketing work to be provided by the latter party. Outline in full detail the scope of work the marketer is hired for, payment terms, and protect the business's proprietary information.
Download a Marketing Agreement template through the link below or compose a more personalized document using our online form builder.
How to Write a Marketing Agreement?
Whether you are a marketing professional who can promote a service or product or a business owner who needs this promotion, you need to sign a Marketing Contract to prevent miscommunication during the process. Determine the guidelines, clarify the purpose of the arrangement, and agree on billable tasks to define and strengthen your professional relationship. A properly drafted contract will protect you in case of a dispute or disagreement since these agreements are recognized as evidence in all courts of law.
Marketing Agreement Clauses
A Marketing Service Agreement must contain the following information:
Legal names and addresses of the parties.
Description of marketing services to be provided.
List the total cost of services, the amount due at signing and at completion. Determine the fee tail the marketer will receive after the contract is terminated.
Duration of the agreement. It is recommended to sign the document for several months. If the parties choose to continue to work together, it is always possible to renew the existing agreement and, if needed, add some new provisions to it.
Confidentiality clause. The marketer promises not to reveal or sell any trade secrets, know-how, or other confidential information received when performing the services.
Relationship of the parties. Just like a Retainer Agreement, a Marketing Agreement is not exclusive, and it is possible for the parties to enter into similar contracts with other companies or individuals. The marketer acts as an independent contractor and not as a representative, agent, partner, or employee of the client.
Copyright details. Various trademarks and copyright material remain the property of the marketer, and the client will be granted a nontransferable license to use this material only to effectively carry out the marketing services rendered.
Signatures of the parties.
What Is the Tail Period of a Marketing Agreement?
A tail period is a time period during which a marketing professional hired by a business owner is entitled to receive payments, even after the agreement is terminated. Usually, it lasts 12 to 24 months after the contract expired. The marketer has a right to receive fees related to the marketing services rendered. If the business owner continues to profit because of the marketing services provided by the marketer, the latter will receive the fee agreed upon in their original contract.
---
Not the form you were looking for? Check out these related contracts:
Download Marketing Agreement Template