Web Design Contract Template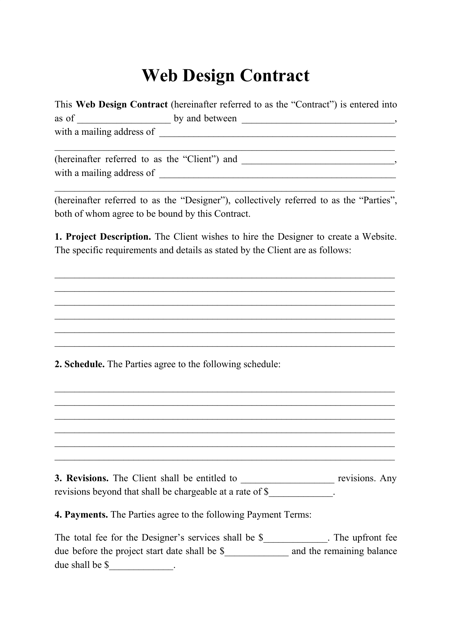 What Is a Web Design Contract?
A Web Design Contract is a binding agreement between the client and the web designer or developer. This document consists of a detailed scope of work, timelines for deliverables, project phases, milestones, and payment schedules. It may also outline the distribution of work among various teams, both client-side and developer-side.
Alternate Name:
Still not sure what the contract entails? Here's what you'll find through the link below : a fillable easy-to-read Web Design Contract template complete with the necessary clauses covering pricing, scope, ownership, and more. If you are a beginner or a busy entrepreneur who wants to take care of their paperwork even more efficiently, you can use our Web Design Contract generator and get step-by-step assistance in drafting your contract .
How to Make a Contract for Web Design?
Building the right contract is easy once you figure out the basic points that a simple Web Design Contract must include.
Begin with an introduction. Have your client spell out the objective of the future website, discuss the products and services they plan on providing, and gather any other details about the client and their business. Make sure to write down the date, place, and name of the contract and include a short summary of the project.
Map out the scope of work. Compile information on milestones, deliverables, timelines, and quality checks, provide a short description of the methodology and technology that should be used. Remember to include a clause regarding post-developmental technical and maintenance support until the testing and stability of the website are ascertained.
Plan out the process. A well-thought-out plan should cover the names and responsibilities of key team members, the general timeline, and the main phases of the project.
List legal terms and conditions. The consequences of delayed timelines, overshooting of budgets, force majeure, etc. This part should include vital information about copyright, right of ownership, and handover of the completed website. A non-disclosure agreement should be signed between the parties, especially if sensitive information is to be shared with the development agency.
Describe the financial details. These include:

Payment terms;
Schedule of payments;
Advance-deposit;
Financial effects of a delay or stalling of the project, and the payment clauses in such an eventuality.
Writing a Web Design Contract is not a complicated process, but needs a thorough and systematic approach under the consideration of all eventualities that may occur during the website design and development duration. The contract should be water-tight, but flexible enough to accommodate last-minute revisions, and harbor a smooth working relationship between the client and developer team.
---
Want to learn more? Check out these related documents:
Download Web Design Contract Template