Computer Repair Contract Template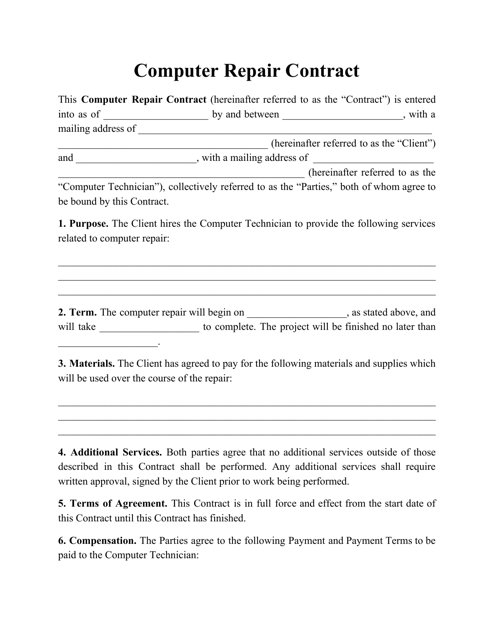 What Is a Computer Repair Contract?
A Computer Repair Contract is a legal document that sets out the terms, conditions, scope of work, and price for professional services related to computer repair and upgrades. The services for this particular contract are provided by an independent contractor.
Alternate Name:
Computer Repair Service Contract.
Download our Computer Repair Contract template through the link below or create your own document with our online form builder and modify it according to your requirements.
How to Make a Lock-tight Service Contract Agreement for Your Computer Repair Company?
Many individuals own computers and regularly use them for professional and personal needs. When a computer breaks down or needs to be updated, the user generally seeks computer servicing from a professional service technician to carry out computer repairs or maintenance. It may be very useful to make a written Computer Service Contract with a service professional in order to clarify all the terms of the work being done. The contract contains a certain set of rules for both the client and the service provider, personal and contact information, the details of the gadget, the time frame for performing the works, and the payment terms.
If your company performs computer repair serves as an independent contractor, you will definitely need to create a Computer Repair Contract to clarify the terms of service, costs, and timeframe for both you and your clients.
Be sure to include all available information about your firm, the services you provide, and your client's information. List the services you perform along with their prices and quantities. Record the total amount for the service. Specify the start date of the contract and the date of the completion of the project and allow space for signatures of both parties.
Computer Repair Contract Clauses
Warranty. The provider must set out warranties for the services provided. Furthermore, any new or replaced parts installed as part of this Computer Repair Contract may be supplied by manufacturers' warranties, and any claims on these parts should be referred directly to the manufacturers.
Payment. The customer is obliged to pay the amount indicated in the contract by cash, credit card, or check. Set the payment plan, if needed.
Customer Data. The service provider is not responsible for any data stored on the device in the event of data corruption.
Confidentiality. The contractor may not disclose the client's personal information or use their personal data even after the completion of the service work.
Acceptance. This section is for the client's signature acknowledging their satisfaction with the service.
A carefully drawn-up contract protects the rights of the service provider and the consumer from potential disputes.
---
Still looking for a particular form? Take a look at these related forms:
Download Computer Repair Contract Template