Pool Service Contract Template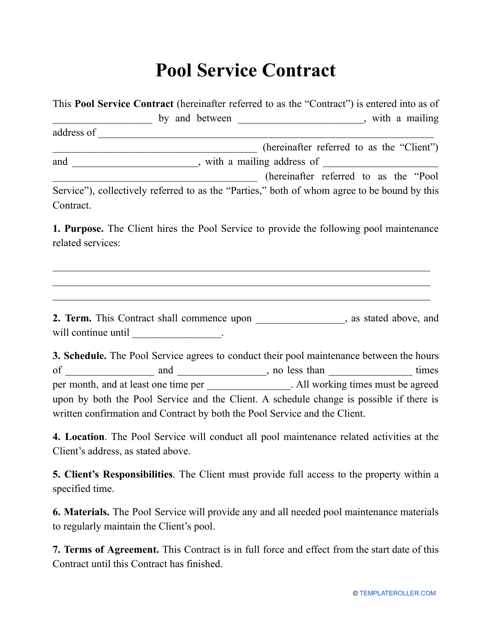 Fill PDF Online
Fill out online for free
without registration or credit card
What Is a Pool Service Contract?
A Pool Service Contract is a service agreement signed by a pool service company and a client regarding pool maintenance, cleaning, renovation, and repair.
Alternate Names:
Pool Maintenance Contract;
Swimming Pool Service Contract.
It does not take long to create a Pool Maintenance Contract and it will establish expectations for both parties to the agreement and outline important details like costs and schedule. Whether the client needs regular, weekly, or monthly maintenance, equipment replaced or repaired, or a full swimming pool renovation, download a Pool Service Contract template below or use our online form builder to draft your own document.
Pool Service Contract Sample Clauses
Pool Service Contracts should contain the following information:
Name of the pool maintenance provider and the client.
Maintenance package. List all the services the provider will perform. Traditionally, a swimming pool service package includes cleaning, emptying sweep bags and traps, testing and balancing water chemistry, and visual inspection of all equipment, including pumps.
Customer responsibilities. At a minimum, the client must maintain the proper water level, keep plants and trees away from the pool, and remove all covers and toys on the day of service.
Price of the aforementioned services and the chosen method of payment.
Service schedule. Generally, the services are billed hourly; this must be mentioned in writing.
Access. The technicians must be granted full access to the customer's pool on the scheduled dates.
Signatures of the parties.
It is possible to add other clauses if the parties desire. For instance, decide what to do after hours and holidays - usually, the pool service company can reschedule on an alternate date. It is also recommended to add the pricing table to reflect various packages the company offers so that the client will be able to choose the best option available.
---
Haven't found the form you're looking for? Take a look at these similar forms below:
Download Pool Service Contract Template